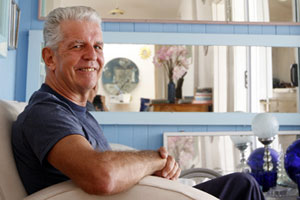 There is something of the beachcomber in Rodney Fumpston. The soft sophistication of his manner and speech belies his roots. His Auckland home gives some clue, an eclectic mix of colour and influence from the Pacific - all vibrant cloth and woven pandanus.
Fumpston was born in Fiji and spent his early years there. He may have studied fine art in London, and lectured and lived here, but at heart he is a tropics boy, happiest in shorts and bare feet. The cliche "you can take the boy out of the islands, but you can't take the islands out of the boy" is apt.
Lately, circumstance has propelled him in a new direction and he is revelling in it. "I'm very lucky. It's not often you get given the choice, or chance, to do something different with your life." So speaks Pacific Renaissance Man.
The "something different" has been the opportunity to rediscover the country of his birth, and the realisation it was something he had always wanted and needed to do.
It might never have happened but for a "sliding doors" scenario. Michael Laws' indirect but inimitable hand was involved.
SLIDING DOORS
Fumpston is one of New Zealand's foremost printmaking artists. He graduated MFA with first class honours from Elam School of Fine Arts, before heading to London and completing Advanced Studies in Printmaking at the Central School of Art and Design (now St Martin's). Eventually, he ended up lecturing at Elam for 10 years.
Over his career Fumpston had close ties with the Sergeant Gallery in Wanganui. In his final year of teaching, the Sergeant held a major survey of his work, also producing a fine catalogue. A national tour was planned. Then fate intervened. A change in mayoralty in Wanganui had controversial and drastic consequences for the Sergeant Gallery and the tour never went ahead.
"It was disappointing because a much smaller national tour of my work 20 years earlier had been a great success." However, this was to be the catalyst for a very positive sea change in Fumpston's life.
"I imagined when I left teaching I would be happy to set up a commercial studio and concentrate again on printmaking." He came to feel it would be a backwards step and economically disastrous.
So, on a whim, Fumpston went to Fiji to take stock. He found he liked it and ended up buying a little house on the Sigatoka side where he had relatives.
"There's something about where you lived as a child. It's very emotive - the way of living, the people, the smells, the food and the environment. I feel incredibly at home when I am in Fiji." Walking around the Sigatoka market, he sometimes realises he is the only white person there. "It never worries me, I feel totally relaxed.
"One of the great attractions of Fiji is that life is simpler and slower. I do enjoy being away from distractions - the computer, the telephone and disparate demands." And he found he could indulge one of his great passions - reading. "While I was working at the university there never seemed enough time to sit down and read a book. It's a wonderful luxury. I'm making up for those years."
Fumpston now divides his time between Fiji and New Zealand, coming and going as the mood takes him, avoiding the extremes of each climate, delighting in his contrasting worlds. His link to Fiji is interesting. "Although my father lived there all his life, because of family issues, I didn't go back all through my teenage years."
His father, Oliver Edwards, was one of Fiji's great characters, known always as "the Major". In World War II he joined the New Zealand army, and later served in Malaya with the Royal Fiji Military Forces.
"As a cavalry officer he was one of Fiji's representatives at the Coronation in 1953, riding right behind the Royal Coach in the Queen's Procession. "It was his crowning moment," chuckles Fumpston, "something he re-lived on frequent occasions." In 1977, the very day Fumpston left London after his studies, the Coronation was replayed on British television. "It was quite bizarre; there he was in all his glory - a full screen shot of Oliver on his horse."
A big part of Fumpston's re-engagement with Fiji has been to do with family. "I am the eldest of the fourth generation born in Fiji. My father had quite a large and disparate family. I'm in the nice position of having family in both New Zealand and Fiji."
TWO GARDENS
A keen gardener, Fumpston's "colour" garden in Auckland is greatly admired. "I was always influenced by Edwardian gardens and the work of Gertrude Jekyll. I've simplified the idea to a silver-grey garden on one side and a brighter, red garden on the other with a reflecting pond at the end. I like bright plants like canna lilies. Cannas are tropical, but I can't seem to grow them very well over there."
In Fiji Fumpston obviously tries to grow plants he can't in New Zealand - heliconias and big, tropical plants like gingers and anthuriums. "Establishing a garden in Fiji has been both a delight and a challenge. On the one hand everything grows so quickly, on the other it can be destroyed in a second." He discovered this recently with the two devastating hurricanes that struck Fiji in quick succession. "Everything was lush and in flower, then suddenly this huge wind blew up and in a few hours shredded everything to something the size of a totara leaf. It was quite shocking."
TWO HOUSES
Fumpston's house in Auckland is testament to a lifetime of collection, in particular Crown Lynn. "I love collecting things. Collecting is a universal occupation; it catalogues and analyses aspects of one's life and enthusiasms. It's much harder to find nice pieces these days. Trade Me has radically changed the whole nature of collecting. I've peaked as a collector now. It's time to get rid of one or two things."
Each room has a distinct identity and mood. Fumpston lives around his etching presses, a galaxy of mirrors and glitter balls at one end of the living room, a wall of Crown Lynn at the other. His "library" is an exquisite capsule of books, paintings, fabric, colour and bric-a-brac. A whole shelf is devoted to hand mirrors, the next to an assortment of blue curios.
For adult and child alike, it's a mystery tour of magic and imagination. Every inch of the hallway is covered in art, set off by a tower of lively Indo-Fijian door mats in the corner - the off-cuts of the rag and textile industry sown on to the backs of sugar sacks.
If his house in Auckland is a rare delight of colour and detail, Fumpston says his Fiji house is simplicity itself. "One of the great joys of living somewhere else is that you can have the difference; I have my house and studio here in Auckland with all my accumulated possessions, but in Fiji I am very consciously living without all that stuff. Anyway, it's too hot - it's either going to rot or get pinched."
NEW WORK
The beauty of living in two worlds is that for artistic inspiration Fumpston can draw on his connection to two countries. New Zealand is becoming more generous in its attitude towards shared identity, prompted by the huge influence of the Pacific community particularly in Auckland. Fumpston is part of that. His skin may be white, but his contribution to Pacific art is no less important.
"I've always been keen on Pacific issues. I did a series of woodcuts a few years ago on a Pacific theme. I've always tried to avoid the hackneyed imagery that seems to be predominant in Pacific art - the patternmaking or the cliched image of Gauguin maidens making baskets by the sea."
Fumpston has not been in a hurry to throw himself back into printmaking. "I've enjoyed having a break from making and exhibiting." But now he feels refreshed and is working on a new body of work. Something from his past provided a stimulus. At the time of Fumpston's retrospective, Elizabeth Rankin, Professor of Art History at the University of Auckland said that though he had looked at a lot of genre in the art world he had done little in the way of portraiture.
"I was challenged by that idea and I'm slowly working on a series of portraits, firstly of animals." Last year a teaser series of dogs was shown at Lane Gallery.
Fumpston is now being represented by John Leech Gallery and new work from one of New Zealand's favourite hybrid sons is keenly awaited.
Meanwhile, his Western Springs home is a celebration of the dual identities shaping his life - and his art.
* Rodney Fumpston is represented by John Leech Gallery, Cnr of Kitchener & Wellesley Streets, Auckland City, ph (09) 303 9395.