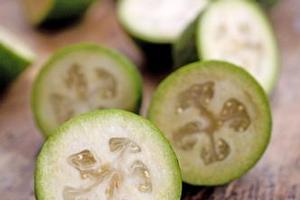 It's that time of year again. Autumn means we're all knee-deep in feijoas - and not quite sure what to do with them.
It turns out they're good for a lot more than simply scoffing straight from the skin with a teaspoon. Here are some ideas for making the most of this season's bounty, from the New Zealand Feijoa Growers' Association.
Did you know?
* Feijoas are high in antioxidants, minerals and fibre, a great source of vitamin C and are low in calories.
* Feijoas are ripe when slightly soft and when the jellied sections of a freshly cut fruit are clear. If they're white, the fruit is not ripe; if they are greyish or brown, the feijoa is past its best.
* Ripe feijoas, unless refrigerated, only retain a good flavour for two or three days.
* Firm fruit may need two or three days in the fruit bowl to fully ripen. Hard fruit will probably never ripen.
* Fruit touch-picked from the tree have better keeping and eating qualities than fruit gathered from the ground.
RECIPES
Feijoa date cake
Feijoa mousse with nougat
Feijoa salsa