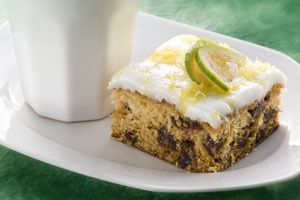 100g butter, softened
1 cup chopped dates
3/4 cup sugar
3/4 cup mashed feijoas
1 egg
2 tbsp milk
1 1/2 cups flour
1 tsp baking powder
1 tsp baking soda
Lemon icing to ice
Lemon zest to garnish
Preheat oven to 180C.
Grease an 18cm square tin. Line the base with baking paper.
Beat together butter and sugar until light and creamy.
Beat in egg. Sift together flour, baking powder and baking soda. Fold into creamed mixture.
Stir in dates, feijoas and milk.
Spoon mixture into prepared tin.
Bake for 45 minutes, or until a skewer inserted in the centre of the cake comes out clean.
Leave cake in tin for 10 minutes before turning on to a wire rack to cool.
When cool, ice with lemon icing and garnish with lemon zest.