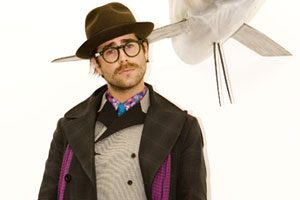 Benny Castles is the dapper designer for World Man, with a penchant for glasses, layering and shopping. Inspired by anything and everything, his wardrobe is one of fun and personality. "Thinking consciously about getting dressed is how I spend a good portion of my day. But the actual waking and dressing is not my strong suit, I struggle in the mornings and would probably do better if I were to get dressed before I went to sleep." He tells us more about this unique look.
When I was younger I used to wear ... Like all young people, clothes that made me feel like I was different but were actually making me fit in. If there is one thing I know about fashion it is that it does not belong to the young, it just looks good on them.
The thing that inspires my style the most is ... Everything! I am an exceptionally easily inspired person, something I take great pride in and enjoyment out of. I can be quickly excited and am indulgent with my passions. But everything that I am attracted to can be brought back to a sense of character - whether I have been affected by a picture, a book, a film, a piece of furniture, a building, or a person.
It is the character that they, or it, displays that inspires me.
The last item of clothing I bought was ... A dark navy knit cashmere backless waistcoat from Lanvin (I didn't really buy it, Visa did).
The next item of clothing I want to buy is ... Another pair of glasses, I have a morose obsession with eyeglasses and Meg at Vigil on High St knows so. I started off wanting a different pair for each day of the week and am now thinking about that in a more monthly scope. However, depending on my aforementioned friend Visa, there is a very functional looking Louis Vuitton backpack in the latest men's look book, that I may be able to convince myself of, due to its ... um ... functionality.
I like to wear ... A lot. I have been referred to as an onion, I just like putting on clothes. However being in the position to over-intellectualise about what we wear, I like the idea that you dress your mind or rather wear your personality. I wear what makes me happy and I wear what fascinates me - right now that means a moustache.
A man's wardrobe isn't complete without ... a sense of humour. One must remember that fashion is so ugly it has to change every six months.
My favourite place to shop is ... World of course. I am an ardent consumer and enjoy the experience of shopping for all things, so to be in an environment where we can shape that experience for many different people is very exciting. But to give you the answer you want, Paris.
I'd like to raid the wardrobe ... of Tyler Durden, Prince Andrei Bolkonsky, Robert Saint-Loup, Mr. Mistofelees, Ignatius J. Reilly, Raskolnikov, Hank Chinaski and Baron de Charlus. Because they are all still figments in my imagination.
The most stylish man ever is ... Marcel Proust, because even in his substance he oozed style.
The biggest fashion mistake a man can make is. .. To be nude. "Naked people have little or no influence on society, clothes maketh the Man" - Mark Twain.
Right now I am wearing ... An ensemble from World Man's winter collection "I need someone really bad. Are you really bad?", along with a pair of Vanishing Elephant shoes, Acne socks, Cutler & Gross Glasses, a Hampton hat by Akura and I dodge bullets with my Globe Trotter Briefcase.
I think that men want to wear ... What they want. Men are most often too subservient to their partners in terms of style, particularly when shopping. A lot is said about men being taken about as the unlikely handbag. However, when the shoe, quite literally, is on the other foot, many partners can take a too-controlling approach to their loved ones shopping. If he wants to dress like Fred Dagg or like Ru Paul he should be allowed.
My favourite menswear designer is ... I hate favourites, it's like ordering dinner and only being allowed to choose an entree or a main or a dessert.
Describe your aesthetic for World Man in three words. War and peace.
What do you wear to work? World Man ... a can do attitude ... Happy Socks ... a grin ... a Robert Piguet fragrance ... a pocket Moleskine ... a sense of fulfilment ... and always an under-shirt.
Phil Howling
He may spend most of his time thinking about music, but we like Phil Howling's take on fashion, too. Howling is the general manager of Warner Music, as well as director and vice-president of the Recording Industry Association of New Zealand; his style combines smart suits, casual jeans and a T-shirt, and good shoes. And though his look may be distinctive, in terms of From left: Phil Howling, general manager of Warner Music and Nat Cheshire, delineator at Cheshire Architects.getting dressed each morning, his approach is more casual than conscious. "I'm a man - hardly anything I do is pre-thought out."
When I was younger I used to wear... I was a complete West Auckland metal head. The Black Sabbath T-shirt, black jeans and high top sneakers. Plus a mullet to match.
The thing that inspires my style the most is ... Simple classic pieces with an edge. My style isn't really inspired by anything in particular, apart from knowing what works best for me and what doesn't.
The last item of clothing I bought was ... A black Crane Brothers suit blazer. Every man should own at least one.
The next item of clothing I want to buy is ... A pair of Costume Nationale dark grey lace-ups from Wunderkammer.
I like to wear ... A Black Crane Brothers suit jacket, my slim cut Black Nudie or April 77 jeans, Costume Nationale black lace-ups, and one of many classic T-shirt pieces I have purchased from Black Box Boutique.
A man's wardrobe isn't complete without ... A fine fitting suit, good jeans that can be dressed up or down, good shoes and a versatile black blazer.
My favourite places to shop are ... For suits, Crane Brothers; Black Box Boutique for casual essentials, jeans from Fabric, shirts and shoes from Wunderkammer.
I'd like to raid the wardrobe of ... [Wunderkammer owner] Mark Crane, however I would probably have to take the pants up. The man is the epitome of relaxed sophistication.
The most stylish man ever is ... Bryan Ferry - no need to explain.
The biggest fashion mistake a man can make is ... Wearing bad shoes. Thanks to Kathryn Wilson, I don't.
Right now I am wearing ... A Crane Brothers suit, Costume Nationale shoes and a Zambesi T-shirt
When I'm at work I wear ... Clothes that are comfortable but stylish, enabling me to walk from the boardroom to dinner, then on to see a band.
When I'm not at work I wear ... A minimal variation on what I enjoy wearing every day. Recently my locally designed "Yours" hightop sneakers.
I think Kiwi musos dress ... Very well - with fashionable sensibility expressing their individual musical style.
The most stylish musician I have ever met was ... David Bowie without a doubt. The man was and still is a style icon. Plus New Zealand's own Nathan Haines - he's the best-dressed man in NZ music.
Nat Cheshire
Quality over quantity is what informs the wardrobe of Nat Cheshire, delineator at Cheshire Architects. Along with younger brother Hal, Cheshire appeared in the initial campaign for Crane Brothers' first ready-to-wear collection, fitted out in his signature and much-loved suit - a garment that is worn both to work and at home or out in the city. "I think the suit deserves liberation from corporate enslavement, and I delight in wearing one everywhere."
When I was younger I used to wear ... When I was at art school I used to wear low, baggy Boom jeans, bright yellow T shirts, chains, skate shoes, and oversized silver headphones with a volume dial on the side. A Macpac and skateboard went everywhere with me. Only the chains have survived.
The thing that inspires my style most is ... For me, architecture does not stop at the drawing board, but informs the living of an entire life. I will wear white sneakers and a tee hand-printed by me or my brother Hal one day, a bow tie the next. In architecture, clothing, and almost all things I am biased neither to material luxury nor humility. I am concerned only that real care has gone into creating the things we live in, and that the results are quietly extraordinary.
The last item of clothing I bought was ... A Lanvin silk bow tie in Tokyo. We were chasing clothing stores designed by superstar Japanese architects, and I could not resist its inky blue decadence, nor the salon-like experience of its purchase.
The next item of clothing I want to buy is ... I believe in having few things, carefully made, and that those things should last a long time in both style and construction. I tend therefore only to buy when I discover something very special, and never to go out hunting for something particular.
I like to wear ... I mix pieces from the Belgian and French houses with custom-made Crane Brothers shirts and jackets, or white sneakers with a tee hand-printed by me or my brother Hal. The recurrent fixture is a skinny black jean that bridges building site to fine dining.
My favourite place to shop is ... My favourite places to shop are where real relationships can be developed with those designing the clothes, or those carefully selecting and presenting them. Assin in Melbourne and Crane Brothers in Auckland are excellent, and on the other side of the globe, elegant Roman exuberance will for me always beat self-conscious Parisian cool.
I'd like to raid the wardrobe ... of my little brother Hal. He has an extensive collection of tees adorned with skulls, including one with cherry blossoms growing from the eye sockets.
The most stylish man ever is... I'm afraid I've not the faintest idea who the most stylish man ever is. I really pay attention only to the way women dress, and the young graphic designer Pieta Brenton is always spectacularly dressed, whether feeding her horses or dining in the city.
Right now I am wearing... Christian Dior shoes, jeans by Eleven77 Records, and a custom-made Crane Brothers shirt and jacket. The ink-blue bow tie is from Lanvin, and the bracelet is a dog collar from the two dollar shop, via my brother, Hal.
How do you get dressed? Is it something you consciously think about when you wake up each morning, or does it just happen? I dress differently each morning to suit the day. If we've been working hard and I haven't slept for a couple of days, I need a bow tie to keep me upright and in control.