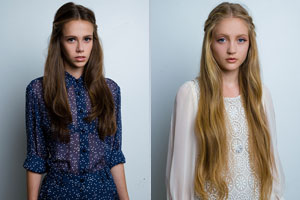 Wellington based label Twenty-seven Names is holding an exhibition in Auckland tonight, but here is a sneak peek at some of the portraits that will be on display.
Shot on Friday by up-and-coming fashion photographer Guy Coombes, the portraits showcase pieces from Twenty-seven Names' new summer 2010 collection, called Twelve after the 12 models photographed.
From what I have seen so far, it looks like a strong collection with pretty variations of popular styles from past seasons in delicate shades of lilac, white and navy.
Both the collection and portraits were inspired by contemporary female artists - art being a long held passion for Rachel Easting and Anjali Stewart, the young designers behind the label.
"We've always wanted to present our stuff in an art related sort of way," explains Easting.
"I went to art school and we've always referenced art in our designs - all of our favourite inspirations come from the art world."
This time around the pair were inspired by artists including Jenny Holzer, Rineke Dijkstra and Vanessa Beecroft, translated into this series of stark, unposed photos of pretty girls in pretty clothes - as well as a three-minute stop motion film of the 12 models, examining the power of a group.