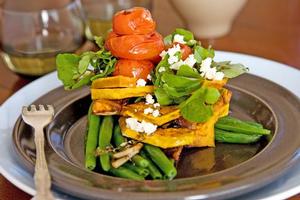 Serves 4
500g pumpkin, peeled and sliced
Olive oil
Salt and pepper
6-8 cherry tomatoes per person
1 Tbs balsamic vinegar
3 stalks of thyme
2 garlic cloves, finely sliced
8-10 green beans per person, trimmed
1 bunch of watercress or 4 handfuls with any coarse stalks removed, rinsed
200g goat feta
1 Preheat oven to 200C. Brush each slice of pumpkin with olive oil, season and bake on a tray for 20 minutes or until tender.
2 Put the tomatoes in a baking dish, coat generously with olive oil then add balsamic, thyme and garlic. Season and cook for 20 minutes.
3 Blanch the beans in salted water until just cooked - 3-4 minutes, then drain. Arrange the pumpkin with the watercress and beans. Spoon over the tomatoes and juices then crumble over the feta.