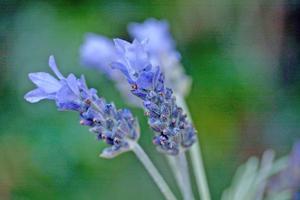 Lately I'm loving lavender. Seems I'm not alone: the old-fashioned fragrance is having a mini-renaissance, the colour is a perfect complement to winter's grey fashions and the hardy plant thrives even in neglected gardens.
Maybe we're all unwittingly crying out for lavender's renowned calming properties, but I think its enduring appeal is more in the simplicity of a single note scent that few dislike. Now that the prevailing perfumes of the day - fruity florals and vanilla - have hit the supermarket shampoo and air freshener shelves with a vengeance, you know it's time for a breath of fresher air. Good old lavender is the perfect unobtrusive choice.
One of the easiest ways to enjoy lavender is to make your own lavender bag by popping dried lavender into a pretty circle of fabric and gathering it up with a ribbon to hang in your wardrobe. Or take the even easier way out by buying a bag; they're a craft stall favourite. You can keep your bag smelling fresh by adding the occasional drop of lavender essential oil.
Fay Blomquist who is the director of Extracts the Aromatherapy Centre in Auckland's Downtown shopping centre, explains that if you want to enjoy the aromatherapeutic benefits of lavender then you need to use products containing the real deal oil, not a substitute. A synthetic scent may be appealing, but any soothing sensation is likely to be a placebo effect.
She quotes a father of modern day aromatherapy, Robert Tisserand, who said: "Synthetic or inorganic substances do not contain any 'life force'; they are not dynamic. Everything is made of chemicals, but organic substances like essential oils have a structure which only mother nature can put together. They have a life force, an additional impulse which can only be found in living things."
Lavender's appeal has lasted through the generations. Blomquist says a cousin tells of her mother waving a bunch underneath her nose to soothe her when she was a crying baby. It's still one of her favourite essential oils and one of the safest to use, being gentle enough to be applied directly to the skin and after bites, bumps and even burns. A few drops on a tissue can calm and encourage sleep, in a burner it creates a harmonising atmosphere and added to a warm bath it relaxes tension, she says. (Make your own bath salts by mixing five drops of lavender to a cup of Epsom salts and swishing through the water before soaking for 15 minutes or so). Add lavender to a massage oil, such as sweet almond, to share the sensation.
Lavender, which gets its name from the Latin lavare meaning "to wash", was used in Roman bath houses. In oriental medicine it soothes and supports the Qi-energy of the heart, calming and balancing emotions. In France it's the foundation of the fragrance fields in Grasse, though Blomquist tells me that the type of lavender most used in the fragrance industry is Lavandula intermedia or lavandin, a hybrid of aromatherapy's prized true lavender (L. angustifolia) and camphor-rich spike lavender (L. latifolia). Lavandin yields a higher oil content than the older plant, which is why it is more commonly found in cosmetics, soaps and detergents.
Synthetic substitutes also abound, so if this is an issue for you read those labels, seeking out lavandin or for the best essential oils only 100 per cent L. angustifolia. The best true lavender is said to grow at high altitude in France and Bulgaria, but Blomquist says crops now being grown on the Canterbury Plains are proving particularly hypoallergenic.
Her favourite lavender products are A'kin Lavender Cellular Brightening Mist, Perfect Potion Sweet Dreams Pillow Mist, which she keeps by her bedside table for restless nights, and Blue Earth Lavishly Lavender Soap, all of which she stocks. (www.extracts.co.nz)
Bosisto's Botanicals Lavender Spray $20.99
Made with 100 per cent true lavender oil, this spray allows you to easily enjoy genuine, long-lasting lavender aromas around the house. A 100 per cent pure oil is also available for $19.99 and $29.99 from this Australian natural pharmaceutical company. (Selected New World supermarkets, selected pharmacies)
Trilogy Body Care Botanical Body Wash $26.90
Lavender combines with kawakawa and other botanical extracts in this lovely non-drying wash which won Trilogy a Green Beauty Bible gong in the UK recently. (From selected department stores, pharmacies and health food stores)
Avalon Organics Exfoliating Enzyme Scrub $22.95
This scrub is suitable for sensitive skin and contains organic lavender to help soothe. Part of the lavender-infused Renewal & Vitality range from this affordable natural skincare maker. (From Smith & Caughey's, selected health food stores and pharmacies. Stockist number 0800 118 311)
Mecca Hydrating Hand Creme Lavender Epicee $75
Made with Grasse lavender, clove, geranium, patchouli and a white musk base, this smells as good as it sounds and is the sort of satisfyingly large tub you'll want near the basin, though the price may deter liberal use. There's also a Hand Wash. (From Mecca Cosmetica, Ponsonby Rd and Kirkcaldie & Stains, Wellington. www.meccacosmetica.co.nz)
Elemental Herbology Summer Essentials Cool & Clear Face Cleanser $82
This luxurious new range of English skincare features cooling and clearing daily care items for summer and hydrating ones for winter - hence the0 name. The cleanser is olive oil based, but includes lavender and other botanicals for an anti-bacterial, sebum balancing effect. Smells terrific, looks great, but not sure many people will swap out all their products with the seasons. (From Mecca Cosmetica, Ponsonby Rd and Kircaldie & Stains, Wellington. www.meccacosmetica.co.nz)