Address: 129 West End Rd
Phone: (09) 376 3590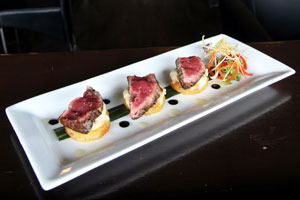 When Amanda and Mark ran their own restaurant in St Heliers some years ago, they used to invite Amanda's parents along to sit at a front table on quiet nights so that prospective patrons wouldn't think the place was empty.
I imagine they weren't alone with this ruse, but it seems to have gone out of fashion now.
The week night that we went to Adelie with Mark and Amanda, the only obvious figures were the duty manager chatting to one of her staff, who was leaning in through the open front window.
Undaunted, we went in and, given that we had the run of the place, chose to sit outside in what was advertised as the newly-opened courtyard. It seemed like a good option given that the inside of the bar area is overly dark, to the point where menu-reading and conversation become more conceptual than achievable.
Adelie occupies the premises previously known as the Garnet Bar and Kitchen, and is right next door to the much-lauded Westmere Butchery, on the corner of West End Rd and Garnet Rd.
The previous owner, Luke Dallow, has moved on to greater things at Sale St, and Karl Lenden-Hitchcock, a recent arrival from Britain, has moved in.
We weren't the only occupants of the courtyard, which was encouraging, but our companion moved off fairly promptly when the night's feature band arrived. Lenden-Hitchcock's expertise in London was founded in wine bars, and it shows in the impressive wine and cocktail list.
The food menu comprises small plates ($10-$15), and while this offers variety it can be an expensive way to dine. But the square plates made sharing easy, so we tucked into stuffed olives and ciabatta with dips.
Acceptable on all fronts. I'm not sure of the traffic between the kitchen and the next-door butchery, but if the pork belly and eye fillet were examples of the butchers' art then they are to be commended.
The aforementioned came thrice-roasted in soy and cinnamon, thinly sliced, with fig relish, and the beef was rare and served on a white bean puree atop a potato rosti. Both were absolutely delicious.
A herbed polenta cake with onion jam and blue cheese was less memorable, and the porcini and parmesan risotto balls on puttanesca sauce tasted of nothing in particular.
The smoked salmon and cream cheese rolls on cucumber with lemon syrup, whilst sounding like a sandwich you might get at Aunt Maud's afternoon tea, were so good we ordered a second round, If this were a competition, though, the outright winner would have to be the five-spice duck confit, green beans and orange wrapped in a crepe and served with an Asian dipping sauce. It is uncouth to fight over food, but we nearly came to blows.
The one failing in this feast was that, although there were clearly four of us dining together, several of the plates came with three or five portions. Could someone not count, or was the kitchen not told of numbers? It seemed a shame that something so easily tailored to a table wasn't.
When we had finished and wandered back out through the gloom, the place had filled up nicely, perhaps because of ex-punk and blues man Walter Hacon and his band. Good to see.
Adelie should be welcomed by locals as a drop-in bar, but not restricted solely to their use. The kitchen's take on tapas is recommended.
Rating out of 10
Food: 7
Service: 7
Value: 7
Ambience: 6
Our meal: $233.50 for nine plates, beer, wine and lemonade.
Wine list: Comprehensive, with sufficient choices by the glass.
Verdict: Like the curate's egg, good in parts, some even spectacular. But the paintwork needs finishing in the courtyard and an investment in lightbulbs inside wouldn't go amiss.