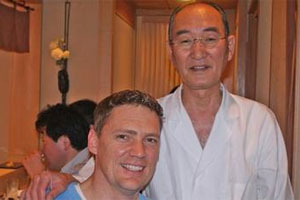 Having never been to Japan before, this trip to Tokyo was a chef's dream come true. How many new dining experiences could I pack into a short visit?
My entree to the Tokyo scene was a soba restaurant, where all the soba noodles are handmade - and cut - in house. First up was the traditional shinsu soba, from Nagano, and the autumn specialty, yuzu soba made from a unique Japanese citrus fruit. (In spring, they make cherry blossom soba).
The yuzu soba was delicious; totally "grapefruity" yet still with subtle citrusy flavours layered upon each other. Once finished, you pour boiling cooking liquor from a small teapot into your dipping sauce and drink it. Amazing.
A ramen restaurant was next on my research list. The first shock on entering was the vending machine at the front door. Here you choose from four types of ramen. You pop in your coins (NZ$12), out spits the ticket which you give to the waiter (a young guy in a white T-shirt, funky Japanese apron, white fluffy hand towel wrapped around his head and white gumboots) and then you are seated at the little bench counter facing the wall.
I almost feel like I'm sitting at a feeding trough.
I guess it's "in and out" for the busy 12 million Tokyo workers and 36 million in the Greater Tokyo area.
The two young chefs and owners, who studied under a great ramen master chef, are hard at work on my lunch. One does the noodles, three basket portions at a time, and the other creates the famous secret stock - this is why I am so excited to be here (you have to watch the Japanese ramen movie, Tampopo).
The ramen arrives within 2.5 minutes - a bowl full of steaming hot noodles, a perfectly cooked egg, a slice of braised pork, shrimp and a fine spaghetti of vegetables. I can hear loud slurps from nearby and assume it's okay to guzzle noisily. The stock is superb and I polish off the lot.
Not far from Shinjuku station is a restaurant called Tsunahachi. It has been serving tempura since 1923. It's nothing flash to look at inside, but I'm here for the food and with the chef cooking your meal less than a metre away from you, it doesn't get any better.
The first taste delight is discovering a bed of tiny cockles in my miso soup. Then I'm served prawns, octopus, taro, mushroom and anago - a small conger eel - whole cut in front of me. It is the best eel I have ever tasted. Not a trace of bone, not strong, just a slight oily richness.
Yoshinoya is one of Japan's largest fast food chains, with the best quality at the cheapest price and seriously fast. My food arrived in 60 seconds, a large bowl of rice with shaved boiled beef, a small bowl of pickles and miso. What surprised me was it actually tasted superb and seemed to be healthy too. An hour or so after eating you have this nice feeling of being completely nourished and not wanting to eat again.
In the new designer midtown area, at the foot of the tallest building in Tokyo, you'll find Japan's most famous pastry chef, Toshi Yoroizuka. This is the dessert bar and shop where sweet treats are created in front of you, while you sip on pure cleansing loose leaf teas. The sweets are exquisite in presentation and taste. If the dessert bar is full, don't worry as mini versions and the full range of teas are available to takeaway.
Tsukiji fish market is a must-do for anyone visiting Tokyo.
Just after 5am I'm in the "tuna hall" to see these magnificent creatures all laid out on wooden crates, their tails are cut off and a wedge is cut into the flesh, a sort of inspection window.
The buyers check out the quality by digging a little meat out of the tail with their special picks, then rub it in their fingers. At 6am the auctioneer rings his hand bell, stands up on a little wooden box and begins a sort of shouting chant, waving his arm madly each time a fish is sold. Then without even catching his breath he's on to the next one, bouncing up and down on his gumboot toes till the entire row of tuna is sold.
Row upon row of stalls offer everything from caviar quality boxed sea urchin roe to unrecognisable sea shells and clams of all shapes and sizes. Three hours is not enough.
Famous in the Kansai and Hiroshima regions, okonomiyaki is a popular savoury pancake served hot with whatever you like in it or on it.
Finely chopped cabbage is mixed with a batter then cooked on a hot plate. I chose to add shrimp and pork which was then topped with special okonomiyaki brown sauce, mayonnaise and a raw salad of peppery fresh radish shoots with crispy bacon.
Sushi Muzutani is one of 11 Michelin three star rated restaurants in Tokyo. Mizutani is 63 years old and set up this basement restaurant, his first, in Ginza at the age of 44.
It's a tiny room with a bar-counter top and 10 seats, that's it. The decor is simple, plain untreated wood surfaces, completely void of any decoration. Complete focus is on the food; no music, and talking seems almost forbidden.
Mizutani puts white ginger and freshly grated wasabi on a polished black rectangle, then follows 17 courses. Sashimi of flat fish, abalone, mackerel, red tuna, then divine fatty belly tuna, sardine, then sushi of tuna. Then comes hen clam, some type of cockle, gaper clam, halfbeak giant mussel, long shrimp, sweet delicious minerally sea urchin from Hokkaido and finally sea eel from Tokyo Bay. I'm not expecting a pudding, but out comes the most light eggy sponge packed with flavour, yet delicate and simplistic. This is heaven.
Geoff Scott is the owner and head chef of Vinnies restaurant in Herne Bay. He travelled to Japan as a guest of Tourism NZ.