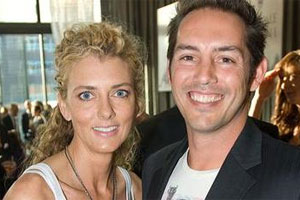 Celebrity couple Adam Parore and Sally Ridge are living apart, the Herald on Sunday has learned.
TV personality and interior designer Ridge has moved out of the Ponsonby, Auckland, home she shares with Parore, a former international cricketer.
A friend of the couple told the Herald on Sunday that the split came after a dispute between the couple over a voice message left on Ridge's mobile telephone.
The call leading to the message is believed to have been made accidentally from Parore's phone.
The Herald on Sunday understands that when Ridge asked Parore about the message, he deleted it from her phone.
Parore refused to comment.
He said: "I'll get our lawyers to call you."
He is believed to be hopeful a reconciliation is possible.
Ridge also refused to comment. She, with daughter Jaime Ridge, is believed to have been staying with a friend for the past few nights.
It is the second high-profile split for Ridge, 39.
Her marriage to league star and TV personality Matthew Ridge ended about seven years ago - and her ex-husband then took up with one of her best friends, Nicky Watson.
Matthew Ridge is now in a relationship with former Truebliss star Carly Binding.
After Parore finished his cricket career he went into the business world, lending his name and profile to Adam Parore Mortgages.
Sally Ridge has four children - Jaime, 16, and Boston, 12, with former husband Ridge, and Astin, 6, and Mclane, 3, with Parore.