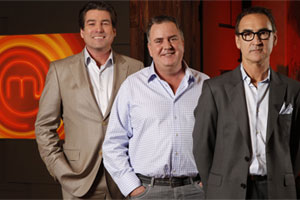 Chocolate coated asparagus? "Are you serious?" judge Ray McVinnie asked on last night's first episode of MasterChef NZ. And: "why?"
The chocolate covered asparagus "creator" said: "I've always loved art."
The aspiring master chef/artist had started dipping all manner of unidentified food stuffs in chocolate - "for the sake of the children".
Perhaps she thought she was in the Angelina Jolie wannabe competition. "Coming up: The day's kookiest contestant."
That wasn't choc coating woman, or the vegan.
The kookiest was the bloke who marinated meat in orange juice and cola. (I think Nigella's been plonking hams in fizzy drink for some time, but we need, apparently, all the home grown kooks we can get.) That was Carlos.
"Look at me," he said, "I'm fabulous and gorgeous."
There was lovely Sue from Wanaka who made chicken fricassee with a kumara scone topping.
The judges loved it; they loved her, even though she wasn't remotely kooky. Simon Gault said: "Can I have a hug? I love you. I think you're fantastic."
There was a hug. There were tears. There was mass raa-raaing: "Masterchef New Zealand!"
Gault may turn out to be the hit of the show. He's part Tyra: "Can I have a hug?" And part Simon Cowell, discoverer of unlikely talent: "It's not good [pause for dramatic effect while the cameras wait for the tears to well]; it's freakin' fantastic."
You have to have freaks. If this was America's Next Top Model crossed with American Idol, we'd have a transsexual, dyslexic chef with an eating disorder.
We have to make do with a vegan. Would she cook rabbit's kidneys in Gault's kitchen? (Would anyone eat rabbit's kidneys?) The third judge, Ross Burden, doubted it. She was given the benefit of the doubt. I rather doubt she got through the first round for any other reason than her inclusion will give Gault the chance to make her eat rabbit's kidneys. This is not a complaint; I'll gladly keep watching in the hope I'll get to see a vegan eat a bunny's kidney.
I could do without the hugs and tears and imported raa-raaism. You have to really want to be New Zealand's first Master Chef so you have to say things like: "I'm prepared to do what it takes," and "I won't let you down."
In other, banal, words you have to parrot the nonsense the contestants on all those American shows squawk to persuade Tyra et al that they really, really want this, bad. And tears don't hurt when it comes to this sort of telly.
"Are you competitive?"
"A little bit."
"A little bit, or a lot?" The contestant made some noises that seemed to translate thus: It's not the New Zealand way. Of course it is that way now. People see other people on the TV, talking themselves up, welling up. That's how you get on the telly.
There was one laconic bloke who resolutely resisted. He appeared, served his perfectly cooked dish, and stood there. The judges loved the food. But did he have the passion? Did he want this, bad?
This is all tedious, but entirely expected. As are the jokes. An under-cooked lamb dish provided Burden with a gag: "A good vet could get that breathing again."
Still, I like it.
I liked Sue and her kumara scone topping and I can't wait to see the vegan gag on the kidneys. Perhaps dipping them in chocolate would help them go down a little more easily, or not.