Where: 421 Titirangi Rd
Ph: (09) 817 5057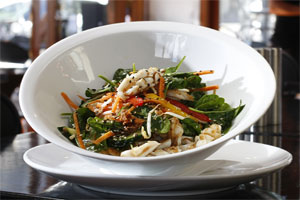 "Location, location, location" is the mantra for buying property of any kind, but especially when finding a site for a restaurant and bar. Takahe has it.
In what was formerly The Long Drop, which I refused to visit because of its unsavoury connotations, bifold windows open to a view of Waitakere bush.
It's the first business you come to as you arrive in the village from the north, and parking is manageable.
The interior has lots of wood in a smart bistro style, and little woolly takahe pop out wherever you look - on top of the electrical switch board, on the coffee machine, in the bathroom.
There is outside eating and a covered-in porch. So, given the great position, it's regrettable that extra effort isn't made in the area where it counts - the food.
We start with bread and dips, a rather bland truffle mushroom mascarpone, and an excellent olive oil with a balsamic reduction.
The antipasto platter appeals too, but more in the promise than the execution, as it turns out. Cheeses, salami, marinated artichokes, sundried tomato - you get the picture.
Nothing that you can't find at your supermarket deli counter, and nothing home-made. The standout starter is David's green-lipped mussels in a Thai coconut and saffron broth. The mussels are enormous and tender, and the broth delicately seasoned.
The choice of mains is a bit of a problem - there are only six options, and none of us fancy the chicken tangine [sic]. It's too hot for lamb shanks, and the pork belly that David and Sally had had on previous visits has vanished from the menu.
So we divvy up the remainder. David's is disappointing. The market fish, snapper, is fine, but the underlying soba noodles with sauteed shanghai and ginger beurre blanc are watery and tasteless. Sally's chorizo fettuccine comes with bacon, onion, mushrooms and olives in a tomato sauce, and is fine, but nothing that a reasonably capable cook couldn't whip up at home.
Except, perhaps, at home, you might be a little lighter on the pepper, which overwhelms almost every dish.
Bill's scotch fillet with wild mushroom sauce comes with crushed potato and tempura jalapenos, which just adds to the general pepper overload. Ditto my pan-fried calamari salad with julienned shallots, cucumber and capsicum, with baby spinach and tamarind sauce.
However, the calamari is beautifully cooked and the whole dish is nicely presented. Bill and Sally share a mandarin and cardamom creme brulee, which they enjoy for its delicate flavour and good crisp top.
David and I are not so lucky; our berry cheesecake is more mousse than cheesecake, and overwhelmed by too much crumb base and topping.
Titirangi is not over-burdened with eating places. It's a shame that such a lovely spot cannot do more to keep local patrons satisfied.
Rating out of 10
Food: 6
Service: 7
Value: 8
Ambience: 7
Our meal: $210 for three starters, four mains, two desserts, two beers, two glasses of wine.
Wine list: Mainly local with plenty of options by the glass.
Verdict: Adequate, but the food does not warrant a long drive across the city. The view does.