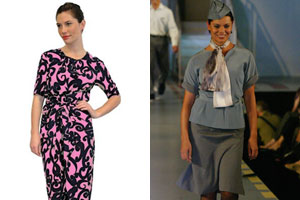 Air New Zealand is making international headlines with its proposed new uniforms, with critics saying they make the cabin crew look like drag queens and appear to have been inspired by Barbie's flock wallpaper.
The hot pink, lime green and aqua blue outfits were designed by Trelise Cooper.
The airline revealed photographs of three designs on Friday night, with a caveat stating that they were "concept only" and "colours are not accurate representation".
However a flight attendant's comment to The Dominion Post that the pink ensemble resembled the look sported on the airline's annual themed flight to Sydney's Mardi Gras, sparked international media interest.
The UK's Daily Mail newspaper published a story asking whether Air New Zealand's "twilight pink" dress with a black floral design was the world's worst flight uniform, while fashion news website stylelist.com said the outfits have got Kiwis reaching for their barf bags.
"Flying can be a terrifying experience for many people but who'd have thought the flight attendant's uniforms would bring passengers out in a sweat?" asked the Daily Mail.
One person, responding to the Mail's article, said the uniforms looked "like something Dame Edna would wear". Another likened them to the play clothes made out of curtains by Maria in The Sound of Music.
But not all the comments from Mail readers were negative.
Jo from Germany said she thought the uniforms looked great.
"So different and funky, I wish I could wear something like that to work," she wrote.
Stylelist.com writer Erin Donnelly took a more light-hearted approach in her analysis of the new outfits, saying the website's staff were "so booking a flight to Wellington next year".
"Surely there's a Flight of the Conchords song in all this," she added.
- NZ HERALD STAFF, NEWSTALK ZB