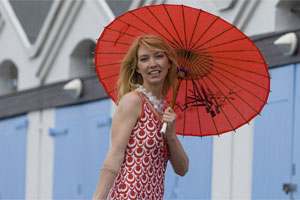 Ruth Carr is the enigmatic frontwoman of Wellington-based electronica act Minuit, who will be performing at the Big Day Out on January 15.
The colourful singer, who released an album with the band earlier this year, cutely called Find Me Before I Die A Lonely Death dot Com, has strong views on fashion, with a laid-back approach to dressing and appreciation for true individuality.
"What's fashionably 'correct' seems to be pronounced by a few and obeyed by the majority, which is wonderfully ironic if fashion is about individuality," she says.
"I think you should just decide for yourself, and say 'this is what I am wearing, f*** you'. It's great when the world of fashion is enthusiastic and artistic and fun, and lame when it assumes snobbery, money, and importance." She tells us more about her unique take on style.
Who are your favourite designers?
I quite like old Paul Poiret's style, especially his coats - they made women look like little cocoons.
When I'm on stage, I like to wear...
If I can manage to wear something different from our last gig, I'm rapt! Before Facebook and YouTube I could just throw one outfit in the suitcase per tour, but now people upload pics from our gigs and I'm often caught wearing the same thing ... omg, so embarrassing etc etc.
Your fashion philosophy?
Is it less than 30 bucks? Then I'll take it!
What was the last item of clothing you bought?
Panties; I'm sure someone is stealing mine again.
What's your biggest indulgence/guilty pleasure?
Stealing.
Who or what inspires you?
I would really have to say Dr Who. He loves the human race so much, and is so nice about us, that it stops me hating us.
Your favourite accessory?
My band.
Best fashion bargain?
Why, fake bags in Vietnam of course!
What's the one thing everyone should have in their wardrobe?
An honest friend.
Your favourite shop?
I found the best op shop in Tampere - a city in Finland where they used to make textiles. It was loaded with fab vintage dresses for pennies.
What is your beauty routine?
I'm pretty lazy, I just cleanse and slap on moisturiser in the morning. There's a shop in Nelson where a lady called Carol Priest makes the best face cleaners and moisturisers and such. I love the rose and almond cleanser; smells yum, right texture, not tested on animals, no chemicals. Tick, tick, tick and tick.
Whose wardrobe would you most like to raid?
I guess the smart way to go would be to raid someone my size - this is where my guilty pleasure could come in handy.
Is there anything you'd never wear?
I'm not a thong person, I'd rather go commando if I needed to.
Best sartorial advice you have had?
"You can't go out dressed like that!"
Most cherished (fashion) item?
My tiara from FYROM (Former Yugoslav Republic of Macedonia - honestly, that is REALLY its name ... The Balkans is f***ed up)
Favourite fashion moment in film?
I thought the red sari set against green New Zealand grass was so beautiful in that movie The Price of Milk.
Your personal style quirk?
I can fall asleep only if I can see my hands.
Most overrated item in fashion?
I guess probably zero size models.
Most underrated item in fashion?
Comfortable panties.
Best city for fashion shopping in the world?
H&M in Holland, Norway, Germany, Finland, Spain, Austria and the UK, but the ones in France and Italy aren't so good.
Silliest trend you've heard of?
Clothing labels in the States - how can a piece of clothing for a grown-up be size 000?
Best way to recycle your old clothes?
Clothes are never old, they are just waiting to be loved again.