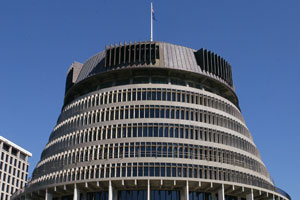 New Zealand's Parliament Building has been named the third ugliest building in the world by a tourism website.
In its second annual list of the world's "ugliest buildings", virtualtourist.com said The Beehive had been described as "a slide projector that fell on a wedding cake that fell on a waterwheel".
Its proximity to the Edwardian neo-classical Parliament House only accentuated its unattractiveness, the website added.
The Morris A. Mechanic Theatre in Baltimore, Maryland was deemed the ugliest building, with virtualtourist editors decrying its "grim, impersonal façade", while the Zizkov Television Tower in Prague was named second-ugliest building.
Others to make the list were Paris' Pompidou Centre, Toronto's Royal Ontario Museum and Melbourne's Federation Square.
VirtualTourist general manager, Giampiero Ambrosi said many of the buildings on the list "don't have the warmth of an ice cube while others don't even seem completed".
"Either way," he adds, "they make for very interesting conversation."
Last year's inaugural list included Boston's city hall, Liverpool's Metropolitan Cathedral and Edinburgh's Scottish Parliament Building.
Full list of this year's ugliest buildings:
1. The Morris A. Mechanic Theatre in Baltimore, Maryland, USA
2. The Zizkov TV Tower in Prague, Czech Republic
3. The Beehive in Wellington, New Zealand
4. The Pompidou Centre in Paris, France
5. Federation Square in Melbourne, Australia
6. The Petrobras Headquarters in Rio de Janeiro, Brazil
7. The Markel Building in Richmond, Virginia, USA
8. The Royal Ontario Museum in Toronto, Canada
9. The National Library in Pristina, Kosovo
10. The Ryugyong Hotel in Pyongyang, North Korea
- NZ HERALD STAFF