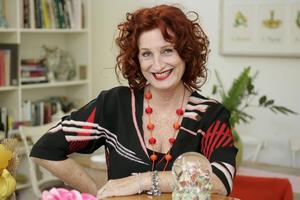 Auckland chef Peta Mathias has been married once. He was a gay Frenchman. So, asks Geraldine Johns, what qualifies Mathias to judge Kiwi manhood?
A courier driver comes calling at the home of Peta Mathias. She bestows great rays of sunshine upon him in her acceptance of his delivery; he is clearly delighted to be in receipt of such rare and bounteous generosity.
Then he asks a stupid question - what has she been doing lately? She tells him she's just written a book. It's all about men.
"Oh! They're terrible people. Why would you waste your time on men?" he roars, before making for the safety of his cab. She hoots with laughter all the way back to the chaise lounge.
So, Ms Mathias has written a book - another one. It is not about food (although it does contain one recipe - for baked beans) and it's not about travel.
The book comes dressed all black and blue and white - unlike Mathias, who today wears her signature starburst of reds upon crimsons upon oranges, with cyclamen pink in between.
Just in Time To be Too Late is Mathias on men. There are, in total, 10 man topics which the chef/author/broadcaster sets out to demystify. What makes them cry/lie/gay; what do they need to be happy? How do you converse with them? What is the point of sport? What does it mean to be a man in the 21st century? she asks.
There is a more pressing question. What qualifies Mathias to write on such matters? She has been wed once - for the sake of convenience. He was French, gay and needed a wife for appearance's sake; she needed a formal work permit to stay in France. He has since died; she has never remarried.
Let us then turn to page 49 and the section headed "Teaching Boys". It opens with Mathias opining, "I know of a preschool that's run by a bloke. This is like saying I know of a butcher shop run by a vegetarian."
And now here she is writing the authoritative piece on a species she has had little enduring connection with. How can that be?
"I've loved a lot of men. I've never married any of the men I've loved and I never loved the man I married. So I've had an unconventional life." But does she still feel qualified? "Nothing qualifies me, actually. But it's just I've been round the block a few times."
The publisher-speak refers to "her fair share of meaningful relationships and flirtatious dalliances"; Mathias is more unleashed in print. And she has family connections: an adorable father, a brother-in-law, three brothers and five nephews.
So we have Mathias on relationships ("I love saying 'no' to men - I get so little practice"); on sex and love ("a hard-on does not count as personal growth"); on fatherhood ("it's never too early in the day to have a whiskey if your kid is screaming, 'What f***ing planet are you on?"')
For the purposes of the publication, Mathias gathered together an octet of males. Introducing, then: Anthony the corporate banker, Jimmy the surfer, Greg the handsome old devil with a gorgeous Italian sweetheart, and Linz the clothes designer.
Then there's Richard the academic, David the sculptor, Steve who's in IT and Jeff the cameraman and editor (some names have been changed).
Good God, what were they letting themselves in for? Their musings on the mysteries of the species that is male are smattered in question-and-answer conversations with Mathias throughout the book.
Some extracts: David allows that orgasms are quite important; Jeff talks about his eye-opening locker-room conversations; Jimmy says sharks are an exaggerated danger - although he gets a bit nervous when he sees a circle of them.
Linz, meanwhile, allows men might wear fancy underwear if they are going out and think they may get lucky.
Mathias came to the assignment with some clear prejudices. "When I first started writing it, my natural inclination was just to completely be as nasty as I possibly can to men. But, actually, when I read the book after I'd written it, I realised I'd actually been very easy on them by my standards - and that was mostly because of the interviews I did."
Oh please: it sounds like she's undergoing some sort of conversion. No, says Mathias, not really a conversion; more an "understanding".
Mathias - the virgin divorcee - shrieks "no!" when she's asked if she'd ever marry again. "To me, the ideal would be a 'boyfriend'. You know, that old-fashioned notion of not living with them, but doing great things with them and having an exciting sex life because you don't have to sleep side by side in the same bed every night."
There is still plenty of time. She has just turned 60. This significant date fell when she was in Marrakesh, where she had a "dramatic, disorganised, typically Moroccan party".
Next month - on Friday the 13th - she will be holding an Antipodean equivalent: a 70s-type party at the Auckland Museum. It's a fundraising do, with money raised going to Multiple Sclerosis, Auckland region. Anyone can come, she says. Tickets are $150.
She's also off around the country to promote her book, which, she allows, has seen a shift in her attitude to the other species. "[Now] I'd have to honestly say that my attitude to men has slightly shifted. I see a man differently now; I'm more convinced I shouldn't have such high expectations and I shouldn't be so judgmental."
* Peta Mathias will be speaking in Auckland, Wellington, Christchurch and Nelson at the start of next month, to mark the release of Just in Time to be Too Late. See www.penguin.co.nz
How to cross the gender gap
How to talk to a man
1 Men are not mind readers. They can't even read body language so you have to actually ask for what you want using clear simple words and, sometimes, combine this with sign language. Although it doesn't appear so, if you are in England they usually speak English, in France they speak French and in Outer Mongolia they speak Mongolian or Russian, et cetera. Hints, subtle or strong, don't work - too open to different interpretations for people with tunnel vision.
2 If you have a problem, only confide in a man if you really want a solution. Every woman knows there is nothing more irritating and insulting than someone giving you solutions to your problems if that's not what you are seeking. Sometimes, both men and women just want someone to listen to them and sympathise. Men only want you to bother them if they can do something concrete about your situation. They have evolved to problem-solve and not show fear or uncertainty. If you say to a man, "The cat ate the baby", he might say, "And your point is?" because he knows it's too late to do anything.
3 Don't ask men unanswerable questions such as, 'Are my ankles thick in these shoes?' This is passive-aggressive behaviour because you know perfectly well there is no correct answer to this particular question. You're just looking for a scrap.
4 Try not to make statements which can be interpreted in two ways. By the time his corpus callosum has caught up, he will have interpreted it the wrong way anyway. This is your fault for being obtuse. Men can't follow multi-track conversations and they get bored easily.
5 Talking to a man while he's watching television is just you looking for trouble again.
6 A man only has a quota of about 3000 words a day and once they're said, that's it. A woman has up to 8000 she must get rid of. Women could try talking less, using fewer words to say what they have to say, or using any surplus words that they can't direct at men on other women.
From Just in Time to Be Too Late by Peta Mathias. (Penguin, RRP $35.00)
Samples who get her nod
Peta Mathias, asked how she would describe the male species, says: "They are a beautiful thing overall."
DAN CARTER
"Who can resist a man in undies? It's so hard to find a sexy New Zealander, full stop, that Dan comes as a bit of a surprise. New Zealand men usually only take their clothes off if they're drunk, but he did it for money and with class and he's hot. Oh, and I believe he plays rugby."
DAVID BECKHAM
"Who can resist another man in undies? David is handsome, stylish, kind to children and old ladies, beautiful on the field (they say), but sexy? With that voice? An entire office described him as a perfectly chiselled specimen. David came high on everybody's list and some seemed to admire his fidelity to his wife!"
MICHAEL BEVAN
"This Australian cricketer induced my colleague to wax lyrical: 'He is a chiselled, perfect combination of Marlboro man and metrosexual man'. You look at him and think: 'I want you to be playing backyard cricket on my lawn'."