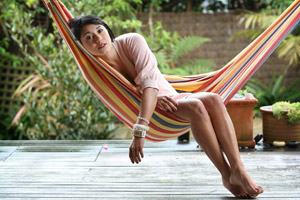 Christy Stead was 20 when she met Mark. They started dating when she was 23. Six months later, she was engaged.
"It was all terribly romantic to have the big proposal and the big diamond ring," says Stead. "My expectations were that it was going to be perfect. It was all a bit of a fairytale and we were always going to be in love and I could never imagine disagreeing. I certainly couldn't imagine not being together. I thought the old 'love is enough' would work it all out."
Unfortunately it wasn't that simple. Even after a conservative engagement of 18 months, cracks appeared as early on as their honeymoon. The couple split almost a year to the day they married. Stead is now one of a growing number of 20-somethings destined for divorce before she hits 30.
According to Statistics New Zealand, Kiwis in their 20s have the highest divorce rate of all age groups. In 2008, there were 18.9 divorces per 1000 married men and women aged 25-29, more than a third higher than all other age groups.
For Natalie, who grew up in a Christian household, getting married at 22 wasn't a big deal. She and boyfriend Simon had been together for four-and-a-half years. Her mother was against the couple living together and, with an OE on their minds, it seemed logical to get married first.
"The environment I grew up in, it was quite normal," she says. "All my friends got married in their early 20s because we all wanted to live with our partners. That was just what we did."
While most of those couples are still together, she does know of one that split as the result of an affair. "She actually attributes that to getting married too young and never having had another serious partner."
Infidelity wasn't a factor in the end of Natalie's marriage four years later but, on reflection, she realises she married her best friend rather than a man who rocked her world.
"We didn't really have a romantic relationship at all. I started seeing that at 24 I wanted more and I thought I deserved to have more."
She also concedes she had the same fantasy image of marriage as Christy: "I thought it would be fun."
Who can blame her? Open a magazine and you'll see romantic ads for sunset weddings in Fiji or newlyweds enjoying their big day. On TV you'll find Nigella Lawson playing the happily married domestic goddess, whipping up a pudding. Even in this post-Sex And The City age, Hollywood churns out schmaltzy films that end with weddings — even Carrie got hitched eventually.
In New Zealand, the average age for tying the knot is now 27 for a woman and 28 for a man. Many couples tying the knot are now ditching "till death do us part" in their wedding vows, instead choosing more cautious phrases. Marriage celebrants report a decline in traditional vows, particularly among young couples, and an increase in promises of love "for as long as our love endures".
"This might sound stereotypical," says Auckland clinical psychologist Richard Whitney, "but it's also reflective of Generation Y — as long as it's working for me I'll stay, if not, I'll leave".
In some circles, love isn't expected to endure; marriage is perceived as rebellious. Peaches Geldof was hitched at 19 and divorced six months later. Shortly after her August 2008 nuptials, Geldof was quoted as saying: "I'm realistic, you can't ignore divorce rates. Every friend of mine has parents who are divorced. I didn't go into it with Max thinking 'this is going to last forever'." You can't accuse her of idealism.
Britney Spears was twice married and divorced by the time she was 25 (her first marriage to childhood friend Jason Alexander in 2004 lasted just 55 hours). And Amy Winehouse's marriage lasted not much longer than her sobriety.
Whether they were simply swept off their feet by the experience of first love or blinded by the whirlwind nature of their celebrity lives, the stats didn't exactly put the brakes on their engagements. It could also have a lot to do with their parents exerting control, a pushing and pulling against the family unit.
During the transition to adulthood, says Whitney, we shape our identity by engaging in relationships with people outside the family.
"Also, in some early relationships, both people are almost as connected to the family as they are to the relationship. There are strong links they haven't broken away from so they're almost defence attorneys for their own families. That can be a point of friction."
Natalie has come to realise she got married out of a yearning for stability. As a teenager living in a dysfunctional home, she almost felt she was marrying into the family life she'd always craved.
"We did fight and now I think that was so childish and unnecessary. I was inflexible, stubborn, just silly, I overreacted — everything about how I dealt with our conflict was bad. But I'd had no previous experience of what it takes to make a relationship work."
She is now 28 and says she's a different person to the one who married at 22.
"I have the ability to rationalise with myself about unreasonable expectations and behaviour. I can filter it. With Simon I never bothered to. I could be as much of a bitch as I wanted — I knew he'd never leave. Whereas now, as an adult, you know 99 per cent of the time you can't just behave as you please, because someone will just leave you."
The repercussions of divorce are arguably more harrowing for those leaving longer-term partnerships or where children are involved. There's more to settle. But young divorcees still have a lot to lament, particularly when their divorces coincide with the big 3-0, that mythical touchstone at which we're meant to have our lives figured out. That the law decrees you must wait two years after separating before you can divorce means the process can be long and drawn-out. Unlike the end of a girlfriend-boyfriend relationship, divorce doesn't always mean out-of-sight, out-of-mind.
"Telling everybody you're going to get married — that's easy and fun and exciting," says Lex Perry, 31, a Vancouver-based real estate broker who was married at 25 and divorced two years later. He and his wife split as a result of big career changes and dwindling chemistry.
"Telling everybody it hasn't worked and thanks for the wedding presents and everything; that's actually the hardest part; the sense of failure, like you have a sense of control over the whole thing, which is probably naive because you probably don't.
"I don't really have long-term relationships these days. I tend to get bored. I've always had a bit of a shell but I think it's given me more of one. It certainly affects your trust issues."
"I'm definitely more cynical," says Christy. "I'm unbelievably gun-shy. I'm now in a relationship with someone that's been going for two years and we don't even live in the same city. I'm constantly questioning everything. Whenever there's an inkling of commitment or if I see any patterns come up — which of course they will because I was 50 per cent of the relationship that didn't work — I freak and just want to bolt."
It doesn't help that she'll have to confront her ex-husband's business debt in the divorce proceedings.
While most of the young divorcees Canvas spoke to rarely see or speak to their exes, Helena McAlpine, 31, has a hard time explaining the complex nature of her ongoing relationship with her husband. She says she has no regrets about marrying her "soulmate". In fact, they're about to have dinner together.
When she met Brett in England — where they were both working for British Telecom — she'd recently broken up with the father of her 3-month-old daughter, Shannon. Most of her peers in the English town she lived in were hitched by 21; her parents expected she'd do the same.
"I remember thinking how lucky I was to find a nice man who wasn't a fly-by-night character," says the former C4 music TV host, recalling how Brett didn't hesitate in helping to raise her daughter.
They married 18 months after they met, and Helena and Shannon moved to New Zealand, Brett's homeland, setting up home in Te Atatu, west Auckland.
But a year later, just as she'd begun to establish a life for herself, Helena returned to England for a wedding and was tempted to cheat on her husband. Helena says waning chemistry, the couple's 12-year age gap and personality differences were partly to blame. They separated shortly afterwards. Seven years on, although they don't live together, sleep together or consider themselves a couple in the traditional sense, Helena refers to Brett as her husband rather than a good platonic friend. Shannon, who was enrolled at the local Te Atatu school, still lives with her step-dad.
So has she managed to move on? It's hard to tell. Helena has had three relationships since Brett, yet doubts she'll ever marry again. Will they get divorced?
"We've never talked about it, because that's how close we are. And we're embarrassed because we made that promise in front of our family and friends.
"I know it sounds misty and unclear but I know I married the best man I've ever met. The proof is that we're still dedicated to one another, we're just not husband and wife [living together]."
In January this year they were officially separated in order to dissolve businesses and sell the house, "to make it legal", she says.
The guilt and shame of the failed union has weighed heavily on Helena, who says she kept the separation a secret from her parents for four years. Because she and Brett were on the other side of the world, it made it easy to keep up the deception, at least by phone.
Heartbreak aside, there's a clear sense she has failed to live up to her parents' expectations — after all it's her sister who has the "dream life," she says, in that she's happily married with children.
While McAlpine doesn't regret the marriage, she suspects people in their early 20s get married for the wrong reasons.
"If a relationship is meant to last, there should be no rush."
As a life experience, divorce is not all bad. Those who accept responsibility, says Whitney, rather than blaming the other person, are less likely to repeat mistakes in future relationships. Each of the young divorcees Canvas spoke to blamed immaturity for getting married in the first place but remained philosophical and positive about their futures.
For Lex Perry, getting married was the best "accidental" thing that could have happened to him financially. Rather than selling the marital home, he now rents it out, and has gone on to buy another. The end of his relationship also encouraged him to travel.
"I think we were both fairly naive in terms of how much of the world we'd really experienced and seen so for me actually getting divorced was quite liberating in a lot of ways. I went out and lived with a mate and had a bit of fun."
Natalie's faith in marriage is still strong, and Christy is still hopeful she'll one day marry the right person.
"After all this time I still hold it up as a thing I want the most but I think what I want is what it represents: to be settled and to be in a committed relationship. I think I am a really different person. Between 24 and 30 you change so much that it would have taken a huge amount of work I wasn't prepared to put in to keep that relationship together. I don't understand how people who get married young manage to stay together when you're changing so much. I have nothing but admiration for those who do."
* Some names of partners have been changed to protect privacy.