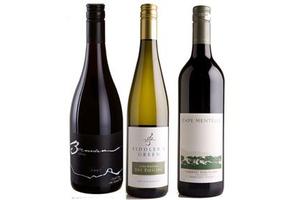 Truly matched food and drink form a civilised, perhaps indeed an artistic creation in the world of gastronomy," said legendary epicure Jean-Anthelme Brillat-Savarin.
Some even now regard wine-matching as a science. But don't let that put you off, as pairing food and wine should be fun, and when it works, prepare for palate pyrotechnics.
I still remember the first time I realised there was something to be said for making the wine you drink with your meal more than a second thought. This epiphany was sheer serendipity, when I bought a bottle of Alsace pinot gris to a dinner party.
It was drunk with a lightly spiced pumpkin soup, and by chance I'd stumbled on a synergy between the subtle sweetness, spice and rich flavours of both that caused a sensory explosion.
Despite the huge array of books written on food and wine matching, it's certainly not rocket science. It's more about common sense and thinking about the flavours, textures and weight of the food and what will complement these.
A rich, robust dish will require a hearty accompaniment, while lighter fare calls for something subtler, and food with punchy flavours needs a wine that's similarly intense. Think about the dominant flavour of the dish, which may well not be its main ingredient.
Although most food and wine can cohabit without too much discord, there are some combos that just don't go.
Asparagus can turn a full fruity red into something unpleasantly vegetal, while a bone dry white can seem searingly sour paired with a sweet dessert. And while the old axiom of white wine with fish, red wine with meat has been overturned, red wines do make some fish taste metallic.
"You've got to find a flavour link between food and wine," advises Lyndey Milan, author of Balance: Matching Food and Wine - What Works and Why.
"For example if you've got a high acid food you'd be looking to match it to a high acid wine."
Opposites can also attract and mitigate the more extreme edge of the food or the wine.
"Try to counter harshness in intensity - acidity can cut through richness, residual sugar in wine can counter spice," says Master Sommelier Cameron Douglas, who in his profession spends more time than most musing over matches.
"If there are more than eight flavours on the plate then the wine should have more simplicity and vice versa."
While I think duck in cherry sauce with a cherry-redolent Central Otago pinot is a match made in heaven, Douglas is less enthusiastic about pairing similar flavours.
"Contrast can often be the answer," he thinks. And that's certainly true when it comes to opinion on what works best.
Taste is such a subjective area, which means what's heavenly to one person may seem hellish to another. Just as some people love peanut butter and jam sandwiches and others loathe them, certain matches will suit your palate better than others. It's all a matter of experimentation.
"A meal without wine is like a day without sunshine," Brillat-Savarin also famously noted.
And the brightness of both is turned up several notches when the two are in harmony.
A date downunder
The acidity and texture of European wines tend to make them more food-friendly, but here I've matched some Australasian examples to recipe's from Lyndey Milan's Balance.
Pinot noir and rice with salmon in soy sauce
Brennan Central Otago Pinot Noir 2007 $40
Salmon is a rich fish that can take a lighter red, like this beautifully balanced and silky textured pinot, with high notes of tangy cherry fruit and spicy, minerally soy-like savoury undertones.
From Caro's, Scenic Cellars, truewines.co.nz, and winetradeonline.co.nz.)
Riesling and oysters with thai dipping sauce
Fiddler's Green Waipara Dry Riesling 2008 $23-$24
Dry riesling is one of the most versatile styles of wine, having the light body to partner seafood, the intensity to stand up to heat
and spice and the acidity to cope with a squeeze of citrus, like this fragrantly floral example with its lick of lip-smacking lime and
mineral. (From Blend.)
Cabernet blend and lamb with redcurrant jelly
Cape Mentelle ``Trinders'Margaret River Cabernet Merlot 2006 $34
Lamb is a classic partner to cabernet-based wines, and this elegant example with its fresh blackcurrant fruit, strands of savoury, mineral,
herb and tobacco, is a particularly food-friendly style. (From Glengarry and other fine wine merchants.)