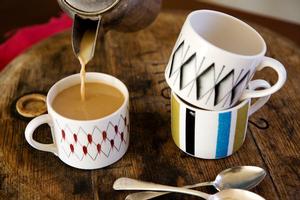 Serves 4
2 star anise
4 cardamom pods
4 cloves
1/4 tsp dried chilli
1 cinnamon stick
3 slices of ginger
1 tsp nutmeg, freshly grated or use tsp ground
2 cups water
2 Tbs black tea
2 cups milk
2 Tbs honey or to taste

1. Put the anise in a saucepan. Bruise the cardamom and add. Add the rest of the spices and the water then bring to a boil.
2. Lower the heat and let simmer for 5 minutes.
3. Add the tea, milk and honey. Simmer for a further 3 minutes while stirring to dissolve the honey. Cover and let steep for 5 minutes before straining then serving.