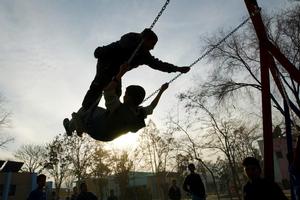 Teachers in the UK say they can identify which children are likely to be troublemakers by their names.
A poll of 3000 teachers run by the parenting club website bounty.com, found the names Jack, Kyle, Courtney and Brooke were among those thought to denote a naughty child.
Callum was identified as the naughtiest boy's name, while Chelsea indicated a female troublemaker, according to the poll.
More than one-in-three of the teachers surveyed "expect" children with certain names to cause more trouble than others, The Sun newspaper reported.
But 57 per cent of respondents said the naughtiest children were also the most popular and the best at making friends.
Bounty.com spokeswoman Faye Mingo told The Sun that teachers were only human and - rightly or wrongly - sometimes made assumptions based on their previous experiences.
"It's only natural for teachers to make judgments based on the behaviour and performance of former pupils with the same name, but I'm sure that they are happy to be proved wrong," she said.
The survey also asked teachers which names they thought indicated bright pupils.
More traditional names topped that list, with monikers like Elizabeth, Charlotte, William and Alexander among the top ten.
However the name Daniel got a mention on both lists, coming in at number four on the naughty boys list and number seven on the bright list.
Naughty and bright names
NAUGHTY
Boys
1. Callum
2. Connor
3. Jack
4. Daniel
5. Brandon
6. Charlie
7. Kyle
8. Liam
9. Jake
10. Brooklyn
Girls
1. Chelsea
2. Courtney
3. Chardonnay
4. Aleisha
5. Casey
6. Crystal
7. Jessica
8. Brooke
9. Demi
10. Aisha
BRIGHT
Boys
1. Alexander
2. Adam
3. Christopher
4. Benjamin
5. Edward
6. Matthew
7. Daniel
8. James
9. Harry
10. William
Girls
1. Elisabeth
2. Charlotte
3. Emma
4. Hannah
5. Rebecca
6. Abigail
7. Grace
8. Alice
9. Anna
10. Sophie
- NZ HERALD STAFF