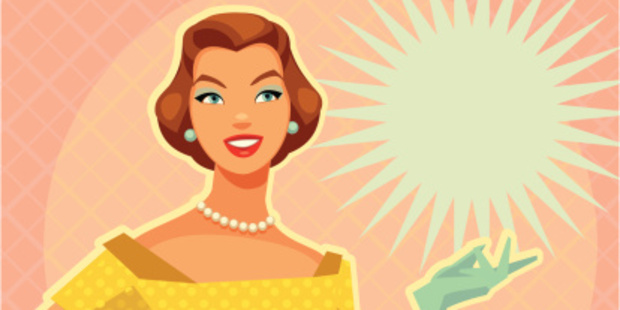 Becoming a proper woman worth her salt is a full-time job these days: you need to have babies and a Lean In career and sizzling marriage-sex and perfect hair and no hair. Do 70 per cent of the chores but zero per cent of the nagging. Transform your squashy limbs into real life, retouched pixels.
Also: try really hard to turn a steering wheel like a man does, and battle the waves of hysteria looping from your vagina to your brain and back again, like an estrogen-fueled Scalectrix. Defy gravity, smile, and never look old. K?
So many things to remember, so little time on this earth.
Of course, contemporary culture may be brimming with unique pressures, but women have been learning how to be women for the longest time. As proof, and to mark the New Zealand Herald's 150th birthday, I bring you some handpicked, instructional snippets from papers past.
How to stand up
"Women who wish to preserve the slimness and contour of their figure must begin by learning to stand well ... It is only the question of a few years of eternal vigilance, never relaxing her watchfulness over herself ... [this] preserves the sinking down of the flesh around the waist and hips, so common in women over thirty."
It's only a bit of "eternal vigilance" - don't be indolent. Also, WOMEN OVER THIRTY. Shudder.
(NZ Herald, September 7, 1889)
How to keep your man
"If the housemother, as the Germans call her, is worried, over anxious, and irritable ... the husband grows discontented and either adds to the general worry or seeks his pleasure out of doors, thereby increasing his wife's troubles.
"Many women look upon devotion to their households, constant self-sacrifice in little things, and neglect their own persons ... as for the benefit of of their husbands and families .. But it is the duty of the wife to retain her good looks as long as she can for her husband's sake."
You have been warned.
(NZ Herald, 14 December 1910)
How to not be a buzzkill
"I know of a lady who is very mad at her husband because he fell in with the boys a few nights ago and went out on a 'toot'. I presume it is unnecessary to explain here what a 'toot' is. Nearly every full-grown male adult in the world has had a 'toot' or two in his life ... To be frank, a 'toot' means strong drink, card perhaps, a front row in the varieties ... and always a hack-ride in the small hours.
"It is degrading and pernicious ... But it is natural, and I want to say to this much-offended wife that in the majority of times a 'toot' is a good thing for some men ... Any good man who goes off on a 'toot' at long intervals - say once or twice a year - always loves and respects the purity of his own home more after the 'toot' than he did before.
Also:"The married man who 'toots' occasionally is not half so dangerous a citizen as that one who, while observing the most correct habits, forgets his wife ... to make diligent love to other women, and goes through society a wolf in lamb's clothing ... under the guise of respectability."
Leave him to his toots! He'll love you more!
(Tuapeka Times, 15 February 1890)
How to fix your faulty face
"Baggy, relaxed and flabby skin: when you feel that the muscles and throat are becoming loose, what is really required is something to remedy the defect. Millie Rubinstein has found that among all the preparations she is able to recommend the ROMAN JELLY and EAU DI PIQUE, as best suited to this condition."
Creative strategy: make woman feel crap. Give woman solution. Sell product.
(NZ Herald, 9 November 1918)
How to be in the circus
"[Men lack] the soft, alluring, persuasive powers that a woman seem to exert over a wild beast. Somehow or other a woman is more sensitive, delicate in her handling of the jungle brutes ... her love and sympathy overcome the ferocious instinct of the beast."
Quote courtesy of Mr Al G. Barnes, "owner, trainer and breaker of 1200 wild and domestic animals, and owner of a circus in America".
(NZ Herald, 28 June 1919)
How not to reduce the flesh
"Every one knows that superfluous flesh is not desirable in summer. Many stout people have the mistaken idea that drinking copiously of vinegar will reduce the flesh; it dries the blood, but generally as the blood decreases the fat increases, and when a slender person drinks vinegar a shrunken form is the result."
Superfluous flesh vs shrunken form: CHOOSE.
(Tuapeka Times, 15 February 1890)
How to feel the fear and do it anyway
"Despair enters into the heart of the housewife, for the ceiling of the kitchen is sadly dirty; she sees no prospect of securing the services of a professional white-washer. There is no help for it - she must whitewash it herself!"
(NZ Herald, 28 June 1919)
How to stay in bloom
"You sometimes see a woman whose old age is as exquisite as was the perfect bloom of her youth ... You wonder how this has come about ... Here are some of the reasons:
She kept her nerves well in hand, and inflicted them on no one.
She mastered the art of saying pleasant words.
She retained an even disposition and made the best of everything.
She knew how to forget disagreeable things."
You heard it here.
(Tuapeka Times, 19 July 1890)
Follow Rebecca Kamm on Twitter.