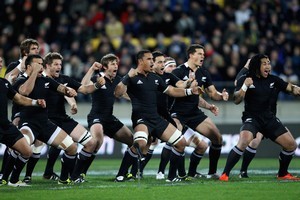 Looking ahead: 2011
It's World Cup time in New Zealand, completing a 24-year cycle.
Kiwis can only win the big show at home. Share it around, the Boks and Wallabies have won it twice; it's the All Blacks' turn once more.
Variations on those themes have been doing the circuit in increasing volume as the seventh tournament approaches.
Whatever transpires, all will be revealed at the end of the 45-day rugby inquiry which starts with the All Blacks in action on opening night and, perhaps, on show again in the October 23 decider.
On the stats sheet the All Blacks are favourites, running a success rate at almost 86 per cent in tests for coach Graham Henry, but carrying the burden of the nation's worst World Cup showing under his stewardship.
It is a sporting dichotomy which has frustrated, fascinated, infuriated and bemused those who have followed World Cup fortunes since the initial 1987 event.
The All Blacks are short-priced favourites to claim a repeat title with Tri-Nations allies South Africa and Australia on the second line of betting ahead of England and France. The rest have no show according to the pundits and it is hard to argue with that summary.
Wales beat Scotland and Italy in the recent Six Nations tournament, Ireland defeated Italy, Scotland and England, the Scots managed to overcome Italy who took out France.
Make of that form guide what you will, while last year Argentina beat France and Italy at home then lost twice to France and Ireland away.
France were in New Zealand two years ago when they made a mess of the All Blacks and should have won the series instead of sharing it.
They left under a cloud of controversy and since then have been erratic with escalating unease about the lack of consistent progress under coach Marc Lievremont.
England's record under Martin Johnson also remains mixed with glimmers of glory then several steps in reverse. They have some of the grunt needed up front but behind the pack there are issues about fitness, whether to move away from or include Jonny Wilkinson and how to unearth some crisper midfield backs.
They look like they appeared at the last World Cup, uneasy, uncertain but threats in the trench warfare-style rugby which comes more into play the deeper sides go in a World Cup.
The Wallabies or Springboks, take your pick. If the tournament stays with the forecasts, the All Blacks are supposed to face one in a semifinal and the other in the final.
Australia have been sifting out a formidably exciting backline but have an unproven forward presence and defeat to Samoa last month has added to the questions about their physicality. The Boks have been treading water, dealing with issues about their coach and some of their ageing troops.
However, both sides have magnificent halfbacks, Will Genia and Fourie du Preez, whose direction can decide this tournament.
Outside that talented pair the Wallabies have Quade Cooper at first five-eighths and the Boks use Morne Steyn, the dashing trick cyclist and the metronome goalkicking strategist, to apply their directional touches.
The All Blacks don't fare too badly in that department either, with the inscrutable Daniel Carter delivering his marvellous array of talents under increasing pressure. He is one of the twin towers in the side alongside skipper Richie McCaw.
This is their third World Cup together as key components in the All Blacks' search for redemption from their last tournament failure and acclamation to rival that of the initial 1987 tournament.
For the first time in New Zealand history the All Blacks have the same coaching team heading a second World Cup campaign, with the theory their experiences of the 2007 glitch will make a difference.
Messrs Henry, Hansen and Smith are a formidable coaching trio, with colossal experience and an outrageous annual success rate with the All Blacks.
That trio has been in charge of a group which at the start of this year had won 78 tests and lost just 13, with their worst year, numerically, coming in 2009 when they lost four out of 14 internationals.
Their lowest point, though, was in 2007 at a Cardiff stadium where Henry had worked through the early stages of his international coaching.
Once again it was the French who delivered the shock with a 20-18 victory.
Referee Wayne Barnes copped plenty from outraged New Zealand supporters over his mixed officiating but the All Blacks and their staff brought much of the misery on themselves. They chose poorly, ignoring form players and picking others like Carter who was not fully fit.
They fell to their lofty - but unrealistic - ideal of having interchangeable XVs and outsmarted themselves with their rest-and-reconditioning programmes instead of having a match-fit squad.
They are all issues Henry and his staff have analysed in the buildup to this year's tournament. Their selection cull to 30 players for the World Cup will be guided in part by injuries and the form of others. What that constitutes is a choice for Henry and his men, they have all the statistics they want on players' mental and physical prowess, they are best placed to fit men to their template.
This year's itinerary left them with an opening sortie against Fiji then four tests against the Wallabies and Springboks as dress-rehearsals for the Cup.
Henry and his sidekicks have more international coaching experience than the rest of their World Cup rivals. That has never guaranteed success and despite that cumulative wisdom, they and their New Zealand Rugby Union employers might be more nervous than their foes.
The pressure on that group and the All Blacks to deliver is greater than at any other tournament in the history of the World Cup. They have a second chance, they are at home, they are constantly reminded of their national obligations.
It is a different event, a quirky sporting festival which has three weeks of flim-flam, ra-ra-ra, the occasional decent joust, a scare or two and all sorts of feel-good stories before the real tournament starts.
From the quarter-finals on the weekend of October 8-9, we get down to some concentrated, serious action in every match.
A fortnight further on, Henry, his All Blacks and the rest of the nation will know how the events of 2011 will sit in the national memory.