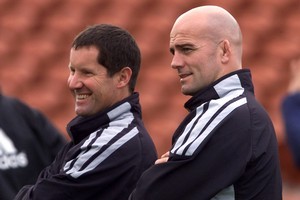 The fifth World Cup was held in Australia after New Zealand baulked then reneged on the terms of their sub-hosting agreement.
The subsequent Eichelbaum Report censured the NZRU council before chairman Murray McCaw and chief executive David Rutherford resigned.
If that was messy there was worse to come as the All Blacks went in search of on-field World Cup success on neighbouring soil.
Meanwhile in Europe, England were preparing like never before. Clive Woodward had spent seven years working towards claiming the trophy, promising to cover every detail in a campaign reputed to have cost close to 20 million pounds.
In the year before the tournament, England hosted and beat all three Southern Hemisphere nations, though each visiting country rested a number of players.
England had won the Grand Slam and since their last World Cup defeat had claimed 35 victories in 40 matches. They ventured Down Under early in World Cup year and beat both the All Blacks and Wallabies.
England were in a good space, confident and assured this would be their year, even if their Southern Hemisphere foes did not share the same view.
Eddie Jones, the sparky former hooker was in charge of the Wallabies, speaking with the type of rhetoric used by Alan Jones and Bob Dwyer in their heydays.
The Springboks were in erratic form and failed miserably on their Northern Hemisphere end-of-year tour in 2002. Later coach Rudolf Straeuli received scathing attention for the methods he condoned to train his side in military-style conditions.
He recruited members of the elite Police Task Force to devise four days of living hell for prospective players at Kamp Staaldraad. Players were stripped and forced at gunpoint to carry loads decorated with England and New Zealand flags, then ordered into freezing water to pump up balls underwater while they heard monotonous recordings of the New Zealand haka or God Save the Queen.
Italy were being coached by former All Black prop Brad Johnstone, but he was embroiled in numerous ructions with the players and was eventually replaced by fellow All Black John Kirwan.
The Scots were in disarray, while post-Graham Henry Wales were under the command of Steve Hansen but it did not make much difference as they were flogged regularly by England.
Ireland were solid and in winning most of their 10 tests before the tournament had been elevated to No 3 in the world behind England and the All Blacks.
It was left to the French to lower England before the tournament, beating them by a point though Woodward excused that defeat by pointing out he had played his second-string side.
The All Blacks started their search for World Cup honours under the combined command of Wayne Smith and Tony Gilbert.
Smith had survived the '99 coaching cull while Gilbert had come from a strong teaching background and success in the Otago region. They introduced Todd Blackadder as the new All Blacks captain, a deal that lasted a year before Anton Oliver was shoehorned into the role.
While the changes were rung there were continuing flaws against their Tri-Nations rivals.
After the All Blacks fell to the Wallabies in Sydney midway through 2001, Smith told his Rugby Union employers he was uncertain about his coaching future with the side.
The NZRU put that to the test asking a variety of contenders, including Smith, to pitch for the job. When the interviews were done and the votes sorted, former Waikato and All Black loose forward John Mitchell was appointed as coach. He collected Robbie Deans as his running mate and they went about their first mission of picking a squad for an end-of-year tour to Ireland, Scotland and Argentina.
Some big names were culled, including Christian Cullen, Jeff Wilson and Taine Randell, as the coaches looked for a change in players, style and effectiveness.
They found gold in Richie McCaw and Aaron Mauger and controversy in the bizarre circumstances of Brad Thorn's selection then withdrawal.
They also found an upward trend in results which revealed before they travelled to the UK at the end of 2002, they had lost one test (by two points offshore against the Wallabies) in 11 internationals.
A total of 21 All Blacks were left behind to help them recharge for the World Cup season and among the new selections, the selectors found some real nuggets. Lock Ali Williams, No 8 Rodney So'oialo, hooker Keven Mealamu and prop Tony Woodcock were new faces on the test scene, men who went on to strong international careers. The selectors continued to invest in newer players in World Cup year as they mixed experience with verve.
Others slipped into the mix for the first time were Mils Muliaina, Joe Rokocoko, Ma'a Nonu, Daniel Carter, Thorn and Corey Flynn.
There was a glitch when England visited and with two players in the sinbin at one stage, managed to hold on for a narrow win in appalling conditions at Wellington.
The result did not ruffle the All Blacks and in private that night the coaches were buoyant they had come so close against the Grand Slam champions in foul weather.
Others may have come to the same conclusion when the All Blacks then dealt to Wales and France in New Zealand before putting 50 points past both the Boks and Wallabies offshore. Those results and the dazzling interplay the All Blacks produced suggested they could threaten the title.
Mitchell and Deans became more aloof from the media, the public and their employers.
While the side glowed, the muttering grew about management arrogance.
But the All Black coaches pushed on with their brinkmanship believing their dogged attitude would ensure a World Cup triumph and their future.
2003 in the news
The year's big hit was 50 Cent's In Da Club.
Early 2003 The acute respiratory syndrome (Sars) spreads to 32 countries and regions of the world. With 8450 Sars cases globally, 810 people die of the disease.
February 1 US space shuttle Columbia disintegrates and crashes in Texas when returning to earth, killing the seven astronauts on board.
February 11 Donna Awatere Huata is expelled from the caucus of Act. She remains in Parliament until the Supreme Court declares she has no right to her seat.
March 20 US-British coalition forces launch war against Iraq without the authorisation of the United Nations. Saddam Hussein is captured by US troops near Tikrit on December 13.
August The Refugee Status Appeals Authority declares that Ahmed Zaoui is a genuine asylum seeker. He is moved from a maximum security to medium security prison as a result.
2003
Video: Great World Cup moments - 2003
How we won it: England - A bloody-minded band of brothers
Setting the scene: Mitchell at the helm as England rises
Tournament action: Four more years - the tournament goes on
Tournament star: Martin Johnson - Hard leader of the pack
ABs memories: 'Danger of World Cups is they mean so much'
2007
Video:Great World Cup moments - 2003
How we won it: South Africa - Python applies squeeze
Setting the scene: Henry gets his (first) go at the title
Ref's contentious calls leave nation seething
Tournament action: Boks hold nerve in a Cup of big upsets
Tournament star: Agustin Pichot - Skipper who shamed IRB
ABs memories: 'It was like slow strangulation'
2011
Looking ahead:High stakes in road to redemption
Hold heads high whatever the result
World Cup highlights