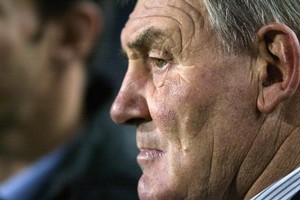 It's hard to fathom, in an age when the All Blacks are splashed across duvet covers and car mats, and are stars of their own kids' TV show. But back in the early days of 1987, our finest rugby men were wary of walking down a New Zealand street dressed in black with the silver fern.
Sir Brian Lochore remembers the mood with some sorrow. When the inaugural Rugby World Cup began in May that year, New Zealand was riven by the national game; a country in conflict over the morality of the Cavaliers' defiant tour to South Africa the previous year, which had only widened the chasm torn open during the 1981 Springbok Tour.
"In '81, there were the hard core who continued to support the All Blacks, and the others didn't. It was a 50-50 split," says Lochore. "Then the Cavaliers went on their tour - I understand why they did it, and I have no problem with it. But it certainly increased the division until it was enormous.
"There was so much anti-rugby feeling around that when the players went downtown they didn't want to put on anything that would identify them as an All Black.
"They were afraid of being abused or accosted, which is what the All Blacks had suffered through the early '80s. People would come and stand right in front of you and abuse the hell out of you. At training, they would be outside the gates chanting."
But something happened during that tournament that would transform the atmosphere between the All Blacks and the people. As they played a marque of electrifying, expansive rugby, and made themselves more accessible to the public, the All Blacks won over their doubters and further embedded themselves with diehard fans.
"In the last week or so of the tournament, there was a noticeable change in my view. [The players] felt in their own minds that the public had swung behind them," their coach Lochore says.
"Suddenly, they never minded wearing branded gear in downtown Auckland ... they finally felt comfortable about being identified.
"It was a fantastic thing to happen to them, after they'd all struggled to gain the support of New Zealanders through the '80s. It finally felt like we had the whole nation behind us. It was beaut."
The change in climate was never so obvious as when 1000 supporters gathered outside the Poenamo Hotel on Auckland's North Shore, where the All Blacks slept before the final against France - followed by the cheering crowds along the roadside all the way to Eden Park. It was a sight that Lochore, a veteran of 68 All Blacks games, had never before witnessed.
But it was not just what had transposed on the field that had the nation reuniting in support of the team. Lochore foresaw the benefits the All Black game would reap from winning back the public's nationalistic heart, and so he embarked on a deliberate plan to take his team to the people - to have them stay on their farms, shoot their ducks and simply shake their hands.
"There were a few things we set out to do in '87. We wanted to be out there with the people, to show that we cared," Lochore said.
"So we presented ourselves and conducted ourselves well at all times. Whenever we were in public, we always dressed well - you can't be a great team unless you look like one.
"We gave people our time, and made sure we met the people who wanted to meet us; we signed every autograph."
Training sessions were often at schools, and the team - who assembled only six days before the tournament started - rarely trained in the same place twice. "We shared ourselves around; we thought that was important," Lochore said.
Sean Fitzpatrick, the new hooker in that side, has since said that going to schools and back to grassroots rugby got "real buy-in" from the people.
For Fitzpatrick, and many of the team, one of the true highlights of the tournament came just before the All Blacks' final pool game against Argentina. In a spur of the moment decision, Lochore had all 26 players billeted out with families in the tiny Wairarapa settlement of Pirinoa.
About 30km from Martinborough, Pirinoa is a blink-and-miss roadside village that is home to the Tuhirangi Rugby Club. Hardman All Black forward Andy Earl had been working on a farm in the area for a couple of years.
Lochore, a Wairarapa farmer himself, "rang a guy I'd played a bit of rugby with" and asked if he thought he could round up - at short notice - a dozen families willing to take in some All Blacks overnight. "The answer was yeah, no problem."
"One of the most difficult challenges we faced was touring New Zealand for five weeks. It was something no one had done before. No matter which city we went to - Auckland, Wellington, Christchurch - all the guys knew a lot of people who were all wanting a bit of them. And you can't turn to your mates and say 'Sorry, I need a bit of space'. So I thought here was an opportunity to give us a little change of scenery."
Not all of the players were initially thrilled with the idea, however. Used to hotel comforts, some let Lochore know that they were not keen on being billeted.
"So I sent them off in pairs so they wouldn't be lonely. When I went down to the bus the next day to go back to Wellington, a lot of those same guys said, 'Why didn't you give us two nights here?' Originally that was my plan, but I compromised," he said.
"They all had a ball. The stories of what they did there still come out today. We went over in the afternoon, had a training run at the local ground and then a couple of social ales with the locals.
"Then they went home with the families and went shooting ducks and geese, rode horses, read books and just had fun. I told them to relax and enjoy it. The families still talk about it today. They've really become quite special friends with those players."
This World Cup, Lochore has been planning a similar sojourn for the Georgian national side; finding 20 families in Masterton to give the players a home-cooked meal and some Kiwi hospitality.
Lochore believes the real catalyst to healing the splintered public support came in the very first game of World Cup rugby. On a Friday afternoon awash with watery sunlight and mediocre curiosity, the All Blacks ran out on to Eden Park before a half-full stadium for the opening encounter with a green Italian side.
But from the first kick-off the All Blacks set alight both the unsuspecting crowd and television audiences across the rugby-playing world. Lochore recalls that 70-6 opening victory as a "spectacular match" for its high-quality rugby and pure entertainment - with perhaps no greater moment than John Kirwan's scything 90m run that bamboozled the Azzurri defence.
"That John Kirwan try was a turning point. All of a sudden people in New Zealand thought, 'hey this is good'," Lochore said.
"And there were really great performances from the rest of the team too. After that game, we realised that we were starting to quietly win over New Zealanders again."
That rapport continued to grow to the point of rapture by the time the All Blacks ran out on the same ground for the final against the French.
That morning, Lochore had delivered his usual sagacious and well-planned speech to the team in the pre-match preparation inside the Poenamo Hotel.
"I really put a bit of time and effort into it," he said. "I may as well not have said anything."
Outside on the walk to the bus, the players were greeted by "maybe 1000 people - saying things like 'We will win! We've got to win!'," he recalled. "Honestly, my team talk had been irrelevant.
"All the way to the ground there were people on the streets, waving and calling out the same things. It was the first time I've experienced that from New Zealanders," he said. "The thing you have to remember is that you can't go out and seek that support. We had to show that we deserved to be supported. I would like to think we did that."
Statistics show they did, right through to the 29-9 final victory. Throughout the tournament they conceded just four tries, scoring 43.
After the final, there were celebration functions into the wee small hours, only for normal life to resume the next day. The team disbanded at about lunchtime on Sunday, and on Monday it was back to work: Craig Green as a roofer, Warwick Taylor as a teacher, Andy Dalton a farmer.
The full team has never been together since; not all could make the 20th anniversary reunion. But on October 11, between the quarter-finals and semis, all 25 surviving players and their coaches will come together at a black tie dinner in Auckland to honour the late John Drake, tighthead prop of the winning World Cup team.
Ingredients for victory from a winning coach
Nationalistic fervor played no small part in the home side winning the 1987 Rugby World Cup, but Sir Brian Lochore has plenty of other reasons for the triumph.
Buy-in
The team assembled in Auckland just six days before the tournament kicked off at Eden Park: "So we had a lot of work to do with tactics, combinations, and how we wanted to play the World Cup side," Lochore says. "But we got a fantastic buy-in from the players, and that's where we were successful."
Butt-kicked
In retrospect, Lochore believes the All Blacks' shock 16-3 loss to France in November was key.
"In that second test we got our backsides kicked. So instead of the guys walking into this World Cup without a concern, we clearly knew we had work to do. And they did it. It was the best thing that happened to us."
Buck-rat fit
The All Black selectors named a squad of 50 in mid-December to be put through a rigorous fitness schedule over summer. Guru fitness trainer Jim Blair put each player through individual tests to assess their strengths and weaknesses.
"They presented themselves as incredibly fit when we got together in May. This team's fitness was never a problem," says Lochore.
Cohesion
The All Blacks would prove to be streets ahead in fitness, support play and strategy. "Part of what we wanted them to achieve was to play a very expansive game. We didn't think we were good enough to dominate some of the teams up front like France and Australia. We had a bit of a mixture of experience and youth. We brought in some new guys who hadn't had a lot of All Black experience, but they certainly had form."
Poise, on and off
On the field: "There was a depth of confidence - they felt really good physically and clearly enjoyed one another as combinations."
Off the field: "We presented ourselves and conducted ourselves well at all times," says Lochore, who operated by the philosophy "external disciplines become internal standards".
Captain's knock
Losing captain Andy Dalton with a hamstring injury could have been a devastating blow, Lochore admits. But Dalton continued to lead the team off the field, while David Kirk proved a laudable captain on it.
"I've always felt sad that Andy wasn't given the kudos for his immense contribution to that victory. He played a far greater role than most people would have believed - he was the captain every minute but the 80 they were on the field."
Intrepid to the end
"A lot of times you go into games where you aren't so sure. But I don't think I have ever been more comfortable in a dressing room before such a big match. They were ready to go," Lochore says of the final.
"When you get guys who are prepared, both mentally and physically, and you've got the crowd behind you, then you're going to be hard to beat."
1987
Video: Great World Cup moments - 1987
In the beginning: Remembering our last victory drink
How we won: The All Blacks - Getting the nation back into black
Setting the scene: Long road to global rugby supremacy
A sending off that made Wallaby history
All Black memories: 'Dawn of a new era'
Tournament star: Michael Jones - Keeping up with Jones
Tournament action: Fans' lukewarm start fast turned to fervour