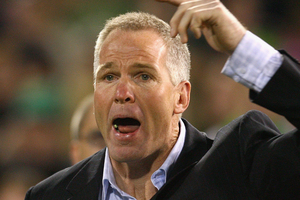 It's often said nice guys finish last but the Warriors are adamant they can not only win the NRL title but also do it without breaking any rules.
The club who famously breached the salary cap under the previous administration made a vow eight years ago to operate cleanly and it is being brought into sharp relief after the Australian Crime Commission's report into drug use and organised crime in Australian sport.
The Warriors still haven't won an NRL title since their creation in 1995 and came closest in 2002 and 2011 when they were beaten grand finalists. The most recent appearance was against a Manly side now under considerable scrutiny after being named as one of the six clubs under investigation by the ACC but the Warriors have said they don't want to be handed the title if anything untoward is found around Manly's campaign.
Their almost puritanical stance was borne out of the 2006 salary cap drama, when the club were found to have breached the cap by nearly A$1 million and docked four points at the start of the season.
"I go right back to when we breached the cap,'' Warriors chief executive Wayne Scurrah said. "We said at the time we want to win this thing and we want to win it by playing by the rules. That was eight years ago. I still maintain that. That's how our fans want to see the club win it. It's going to be a hard graft but it will be so much sweeter when we do it.
"I thought our salary cap issues started to be the cure for us. We got back on track. Everyone had to refocus what we were here for and it was giving and not taking.''
It didn't stop Scurrah quizzing key people at the club soon after the ACC report was released to see if he had anything to worry about. They were all adamant he didn't and they will also review all of their policies around sports science.
New Warriors coach Matthew Elliott has come under scrutiny because he coached both Canberra (2002-06) and Penrith (2007-2011), two clubs among the six being investigated, but said he had nothing to worry about.
"Certainly the Raiders one's a bit of a stretch,'' Elliott told Radio Sport. "I left there at the end 2006. In both those regimes I feel completely at ease, I was across everything.''
All six clubs mentioned in the commission report met with the Australian Sports Anti-Doping Authority yesterday when they were given more detail.
Manly boss David Perry said their risk was "low to medium'' and that all players both past and present had been cleared of any doping misdemeanours. Knights chief executive Matt Gidley said they had "no issues of concern going forward'' and that all Knights coaching staff had nothing to worry about. The Sharks, Panthers and Cowboys have all said they were at the "lower end'' and Canberra chief executive David Furner said they were informed of "isolated'' incidents but were also at the lower end.
It's expected to take months before investigations are complete and some will centre on reports of an NRL match in Sydney being investigated for match-fixing. NSW police have reportedly been alerted to the game.
It's not the first time rugby league has been embroiled in match fixing. Bulldgos prop Ryan Tandy was convicted of spot fixing after a flurry of bets on the first scoring play in a game between the Bulldogs and Cowboys in 2010.
- APNZ