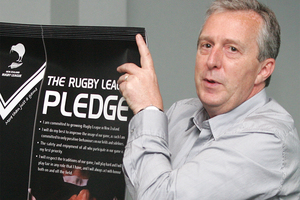 Departing New Zealand Rugby League chief executive Jim Doyle will join the NRL and conduct a full review of pathways and assist them with business and community programmes in New Zealand.
Doyle spent three years as NZRL boss, and leaves the organisation in good shape after improving the bank balance from virtually nothing to more than $1 million. He also oversaw a dramatic restructure of what was a troubled organisation.
His new role will see him work on the NRL's whole-of-game review - the NRL 2013-17 Game Plan - and he will conduct a full review of rugby league pathways, and in particular the role of second-tier competitions from the Toyota Cup to the NSW and Queensland Cups.
He will assist in guiding investment in the competitions and resourcing for referees, administrators and volunteers.
"Jim's achievement over the last three years in New Zealand has been simply outstanding,'' NRL interim chief executive Shane Mattiske said. "He has an incredible business background, a love of rugby league and a proven track record in both grassroots development and high performance management.
"Importantly, he is a good listener who is able to bring a fresh perspective to a fundamentally important area of the game.''
Doyle will begin his role in the New Year and will remain based in New Zealand, where he will also assist the NRL in pursuing business and community programmes in that country.
"I'm looking forward to the opportunity to be involved with the NRL and to assist in identifying strategic investment areas,'' he said. "For me the key has been about getting alignment between the leagues and the competitions in a way that allows everyone to push in the one direction.
"Rugby league is full of passionate people and great competitions and the object of this review will be to ensure that they are aligned in a way that means each strengthens the other.
"My role will be to identify the undoubted strengths of what is in place but also to identify the opportunities and it is a really exciting project that will give people a real chance to provide input into the sport's development.''
- APNZ