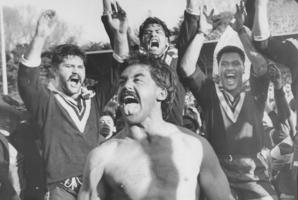 Next Saturday's test in Townsville marks the 30th anniversary of a little-remembered tour that, as Michael Burgess reports, shaped the renaissance of Kiwi league
Most people would point to the historic 1983 victory at Lang Park as the catalyst for a Kiwis rugby league upsurge but giant steps were taken on an eventful tour of Australia a year earlier.
A glance over the results of the 1982 trip suggests it wasn't an overwhelming success. The New Zealand team lost both tests as well as three midweek games but, in its own way, it sparked an upswing that has brought the Kiwis closer in quality to their Tasman neighbours.
The Kiwis should have won the first test and the second was in the balance going into the last quarter, before a late flurry from the Kangaroos.
"We had taken a big step forward," says tour captain Graeme West. "A lot of us were still amateur but (coach) Ces Mountford had taken us to a level where we could compete.
He brought in systems and a defined style of play. We were getting closer and closer to them."
"We knew we weren't far away," says team-mate Gary Prohm. "I think we learned to take the game to them and the Australians seemed beatable. We knew it was possible."
Over the previous decade, the Kiwis had struggled to compete with Australia. After the glorious 24-3 victory in the Carlaw Park mud in 1971, the Australians had won 11 consecutive matches by an average margin of almost 20 points. On their previous visit to Australia in 1978, the Kiwis had been beaten 24-2, 38-7 and 33-16.
In 1982 for the first time, the Kiwis were able to include Sydney-based professionals in their touring team, though Dane and Kurt Sorensen were unavailable due to the terms of their contract at Cronulla.
North Sydney's Mark Graham and Fred Ah Kuoi as well as Olsen Filipaina (Balmain Tigers) and Mark Broadhurst (Manly) were in Mountford's team, though they were available only for the test matches. West was the tour captain, with Graham taking over for the international matches.
Remarkably there were 20 New Zealand-based players in the 27-man squad, with Gordon Smith and Tony Coll heading a West Coast quartet and West one of three from Taranaki.
Notable debutants included Hugh McGahan, Clayton Friend and Owen Wright, all of whom would taste success in the 1980s. The core of the side remained from the 1980 tour of Great Britain and France, including Hull trio James Leuluai, Dane O'Hara and Gary Kemble.
After two warm-up matches in New Zealand, the Kiwis landed in Queensland. They won their first two games before a narrow loss in Toowoomba, a graveyard for visiting teams.
"It was a tough place to play," remembers West. "They seemed to have their own referees and rules, which was always difficult."
The Kiwis were then beaten by a Queensland team including test stars Wally Lewis, Gene Miles, Mal Meninga and Kerry Boustead.
Despite these setbacks, the Kiwis remained confident, especially when bolstered by their Sydney quartet - though Filipaina joined the camp late, after Tigers coach Frank Stanton (also Australia's coach) demanded that the Kiwi centre play a midweek club match days before the test.
"We had spent a lot of time together over the previous few years and were very close," says Gary Prohm. "We had tons of experience and it felt like this was our time."
It almost was. The test was a brutal affair, played at a dusty Lang Park. Kevin Tamati set the tone in the first minute with a huge hit on Rohan Hancock, which led to the Queenslander eventually being replaced in the second half.
The Kiwis held their own throughout, thanks to a storming forwards display and rock-solid defence. They were on the brink of a historic win, leading 8-6 and on attack with just four minutes to play.
But, after a fifth tackle kick went dead, the Australians (aided by a penalty) mounted a last-ditch assault on the New Zealand line, and replacement forward John Muggleton slid through to score out wide in the 77th minute. Mick Cronin's sideline conversion left a final score of 11-8.
"We were devastated," says West. "We lost concentration for a second and let Muggleton slip through. It was soul-destroying at the time."

Life on tour was vastly different 30 years ago. The team stayed in motels and budget hotels and non-playing reserves had to wash the jerseys after each match.
There were no ice baths, warm-downs or protein supplements - Prohm's aftermatch routine consisted of some stretches, Voltaren to ease the bruising and a light walk the next morning. The coach's support staff was a manager and physiotherapist.
Forget the huge dressing rooms of today, with individual lockers and areas for passing and kicking drills - West says there was often barely enough room to swing a cat and pre-match preparations could be confined to a few stretches in the cramped area.
The team organised its own entertainment, though one expatriate Kiwi arranged a visit to a local Brisbane sauna and swimming pool. The players were impressed with the large whirlpool jacuzzi but beat a hasty retreat when a dozen bikini-clad females appeared out of nowhere.
The domestic players selected for the tour also had to sign an agreement allowing the NZRL to demand a transfer fee, should they attract the attention of Sydney clubs.
The second test was in the balance after an hour, with the Kangaroos ahead 5-2. But the Kiwis failed to capitalise on several breaks and Australia scored three tries in a 13-minute spell, for a flattering 20-2 score.
"They bounced back but we were very disappointed," says West. "We competed well and it felt a lot closer. It is just like today. We had great attackers and great defenders but sometimes our concentration would slip and they would pounce. You have to be fully focused to beat the Kangaroos."
This awesome Australian outfit completed the first undefeated tour of Great Britain and France months later, with an average winning margin of 26 points in the three tests against the Lions. The backline included John Ribot, Steve Mortimer and Greg Brentnall, while Les Boyd was probably the best prop in the world at the time and Craig Young was a huge presence in the back row. Prohm remembers Lewis being a particular menace, with his ability to pass the ball almost half the width of the field.
Mountford stepped down in 1983, replaced by Graham Lowe. There were just five domestic players in Lowe's first 15-man squad as the tide shifted irrevocably towards professionalism. The Kiwis split the 1983 series 1-1 and were desperately close to a series win in 1985, losing the second test in the final seconds at Carlaw Park (10-6) before gaining a famous 18-0 victory a week later.