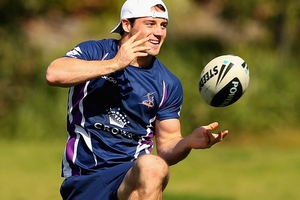 Six years after making his first NRL grand final appearance, Cooper Cronk believes Melbourne's big-game experience can give them the edge in Sunday's clash with Canterbury.
Cronk is one of eight players in the Storm's 17-man squad to have played in a premiership decider, having appeared in the 2006, 07, 08 and 09 deciders.
In comparison, only Krisnan Inu, Sam Perrett, former Storm prop Aiden Tolman, David Stagg and Dene Halatau, who's likely to be 18th man, have tasted what it's like to play in the biggest game of the year.
Cronk was only 22 and in his third NRL season when the Storm lost the '06 final against Brisbane and admits he was unprepared mentally for the enormity of the occasion.
And the Queensland and Australia halfback has warned Canterbury's youthful halves pairing of Josh Reynolds and Kris Keating that merely aspiring to win will be no good to them against the Storm.
"Back then I had an OK season, and it was my first year of playing halfback," Cronk told AAP.
"I sort of hoped we'd finish the year off well and I didn't perform.
"It was a lesson. You need have the belief and confidence to know how to go out there and execute your plays well not just hope you can."
Cronk also said the build-up to a grand final can often be as difficult to handle as the game itself.
"Grand final week is a big week and there are a few things that can throw you off track," he said.
"The hardest challenge is to keep football at the front of your mind. You have to make sure when you get out there you do all the little things that got you there in the first place.
"A few guys in this side have played in GFs, and that may help us. But only if we all do our jobs well."
Despite Reynolds' and Keating's lack of experience, Cronk believes having Des Hasler in the Bulldogs corner is a huge advantage.
"Experience is important, but what better man to have there as coach than Des," he said.
"Not many people have won two premierships, and those two boys and Benny Barba, who's been the best player this year, can only benefit from that.
"Des knows how to handle grand final week and he'll have them ready."
Storm skipper Cameron Smith is unsurprised at how quickly Hasler's made his mark on the Bulldogs and said the grand final will feature two of the best coaching minds in the game.
"He's a bit like Bellyache (Bellamy), no matter where he goes he will have an affect on any player," Smith said.
"The biggest thing I've seen from the Bulldogs is their toughness in defence.
"We played them in Mackay and we had four or five sets on their line and they defended them. It pretty much won them the game.
"You see what he did at Manly, and he's done exactly the same with the Bulldogs."
- AAP