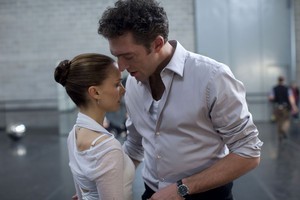 MOVIES
I'm off to the ballet then - and it's not just to see Natalie Portman in her tutu. By all accounts Black Swan (pictured, directed by Darren Aronofsky who also did 2008's The Wrestler) is a great film, and if Portman's Golden Globe-win for best actress is anything to go by, then her portrayal of ballet dancer Nina Sayers - an up-and-coming member of a New York City ballet company - is one not to be missed.
Also opening this week is local drama-comedy about a kart racing-mad father and his sons in The Hopes and Dreams of Gazza Snell, and based-on-a-true-story horse racing yarn Secretariat which stars Diane Lane as the horse's owner Penny Chenery and John Malkovich as trainer Lucien Laurin.
TV
It's a little like the telly slump before the new season shows kick in next week. So besides watching Australian Open tennis and one-day cricket, the pick of the bunch is the New Zealand-Australia tele-feature Panic at Rock Island about a group of concert-going teens who are at risk of being infected with a deadly virus.
Then there's Intrepid Journeys (TV One, Thursday, 8.30pm) where actor Renato Bartolomei goes on a nomadic trip in Mongolia and feasts on mutton and vodka, and for devout crime show fans the 19th and penultimate season of Law & Order is back (although you may want to MySky it since it's on TV3 at midnight on Tuesdays).
MOVIES
It's the boutique, cool-kids' version of the Big Day Out and when the second Laneway Festival kicks off in Aotea Square on Anniversary Day Monday, my picks for the bands to see are oddball Atlanta natives Deerhunter, the band on at 3.15pm whose name is far too naughty to write here, all-girl Los Angeles band Warpaint, and, providing your ears are up to it so early in the day, then New Zealand's Children's Hour are one to check out.
Elsewhere, tonight Joe Cocker plays with support from George Thorogood, so let's hope Vector Arena's bars are well stocked with bourbon, scotch and beer, and American soul man Aloe Blacc plays Backstage in Galatos St; and annual Christian music festival Parachute starts tomorrow morning at Mystery Creek in Hamilton.
OR...
... head to the Auckland Seafood Festival at Viaduct Harbour, which is on all Anniversary Weekend, with singer, songwriter and businessman Jimmy Buffet playing Saturday at 8pm. And remember to make the most of Anniversary Day if you're in Auckland, because there are no Waitangi Day or Anzac Day holidays this year.
-TimeOut