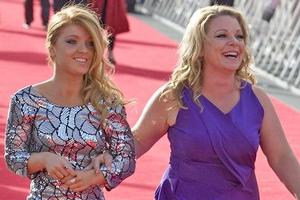 I don't go to everything I'm invited to, I promise. You would not believe what they have launches for these days - vacuum cleaners, furniture, Warehouse crockery.
I know, too, that I'm only asked because I work in the media, not because I'm a truly wonderful person without whom a party simply could not ignite. But there are still some invites to get excited about and The Lovely Bones premiere was one.
Partly it was a chance to get back to Wellington, a city I adore. They don't talk about how to be a multicultural city with a heart and a soul. They just are one. Partly too it was because I remember Peter Jackson and Fran Walsh coming into Cafe Paradiso when I was a table tart there. Peter and Fran were working on The Frighteners at the time and they were only ever interested in food as fuel so they could get back to work.
I remember as I served them I vowed that one day I'd be in a relationship like theirs - they were in a world of their own, totally engaged with one another and sparking off each other's ideas.
Not for them the long pauses between courses which is the purgatory of many a relationship.
And the other reason that I accepted my invitation with embarrassing alacrity is that I loved The Lovely Bones and trusted that Wing Nut Films would get the essence of the novel. And they did. It was a magic night.
Wellington's capricious climate came down on the side of the angels. As I walked up the red carpet towards the Embassy Theatre, I thought it was a far cry from the days when I used to lurch up Courtenay Place towards the next good time. I loved the film - I know reviews have been mixed, but to me it was exactly as it should be. I wept so hard in some parts I almost lost a false eyelash and kept squeezing my daughter's hand thinking, "Thank God she's made it to 20."
The acting is superb; the cinematography amazing. The after-party was great, too. Because the premiere was mainly for all those who'd contributed to the making of the film, there was a real family feel - like a cool 21st.
Tyra Banks' Global BIO summit lunch was an entirely different scene. Much more staged and fussy, with overt security and overt checking out of who had made and who had not made the invite list.
There were far too many chiefs - when you have three or four different people in charge of an event, things fall through the cracks. So the invite list was a shambles, and we were left hanging around for an hour while the poor restaurant staff tried to find places for people.
The only person people were really interested in hearing from was Tyra and when she finally spoke, she was a knockout. She urged fashion editors to look beyond the obvious when it comes to choosing models and moved her own self to tears with a story about being shunned by fashion houses for being too big. Then she worked the room, spoke to us all and it was over.
As indeed is my social year. Time to put away the hair straighteners and the Nancy Gantz and relax. Time to spend my nights with family and friends. Bliss.
Whatever you're doing this Christmas, I hope you have a relaxing and peaceful time.
- HERALD ON SUNDAY