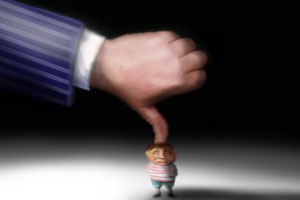 Here in New Zealand we are often reminded that there is a section of society that provides a poor role model to its kids.
In the main, this section of society is easy to spot. Poor, unemployed, frequently Maori, these people hit the headlines with depressing regularity when it comes to bad and often downright dangerous parenting.
But on reading the stories about the Mark Hotchins of the world, secreted off in luxury hideouts in places like Hawaii with his family in tow, I wonder what kind of example he is setting for his young children, in terms of facing up to your moral responsibility to others like an adult should. What are his children learning?
Similarly, as I've already pointed out in this blog, the wealthy and high profile businessmen with children at King's College - who think a fantastic example of parenting is ensuring your school aged children are able to drink at high school functions - makes me wonder about the examples being set.
These two are recent examples, but there are plenty more in this country's past. Not to mention the thousands of Kiwis kids who routinely see their parents become available for social welfare payments by making bogus "losses" on their businesses (evasion, that is, not just routine avoidance) or refusing to pay child support.
I recently interviewed Justine Ross, the wife of 42 Below Vodka magnate Geoff Ross, about her role in the success of the brand.
I heard from her something I had never heard before from anyone. And that was, that for Justine, Geoff's behaviour reflected on the entire family unit, and - despite the fact it didn't appear Geoff was exactly the type given to underhand behaviour - she expected him to conduct himself with honesty and integrity.
"I just don't know who these businessmen with low scruples go home to!" she said.
It was almost an old fashioned way of thinking - that your entire family holds you up to behaving ethically and if you don't, you're not only letting yourself down but your family - and most importantly for this example - your kids as well.
Good parenting, after all, is not just about clothing, feeding and educating your children.
Surely, for society to function properly, there has to be an onus on parents to ensure they are producing well rounded, ethical and honest members of society as well.
The easiest way of achieving this has to be, one would think, setting the right example yourself.