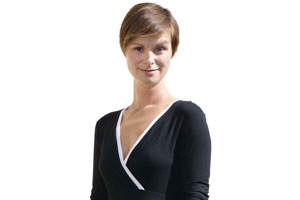 When I heard that Claire Wadey, the co-author of a new local book called Relax and Grow Rich was a mum with two small children, I was intrigued.
Mostly about how the mum of two small children manages to find enough hours in the day to write a book!
But also about how to ensure our own creativity isn't lost in the sometimes mundane process of raising small children, and how we can allow our children to be as creative as they can.
I was a little skeptical, I admit, to read in the press materials that Claire - psychologist, former teacher and university lecturer - was "now living a satisfying and sustaining life bringing up her two young children".
Hmm, I thought. I must ask her to share the secret to zen at home, to "relaxing and growing rich" while raising preschoolers.
Sure enough, the answers revealed a little more light and shade.
Dita: First up, you write a book while caring for two very small children! How did you manage it - both the writing and the general kid-wrangling?
Claire: "I should clarify - I did the research and first stages of writing four years ago when I was winding down my business in preparation for the birth of my first child, Tom, now nearly 3.5, so it was over the last five months of my pregnancy. I also did some further work when he was a new born and slept lots! I did a bit more work in the lead up to publication, which was grabbed moments and I always worried my work wasn't of a great quality. I could have never written this book with one or two children.
"Being at home with two small children (Tom and Molly - 20 months) takes away my creative energies and ideas. I simply do not have the energy to give any of myself to any further projects. Sometimes I do get resentful of this fact, as there is another book I want to write, but it will have to wait and I have to accept that if I wish to continue to be with my children full time until they go to school."
Relax and Grow Rich is concerned with describing 'flow' - or a simultaneously relaxed, energised and focused mental state that generates creativity and solutions. How easy is it for a woman primarily caring for young children to find her flow?
"Leading on from the past answer I think it is really difficult, especially if you are looking for flow in an activity outside of mothering. One of the characteristics of flow is being so absorbed in something that time stands still - free of distraction - simply impossible if you are in the presence of your young ones. I try to achieve flow with my children once a day - by simply being with them without distraction of all the other household tasks that need doing. We go to the beach and dig in the sand, read or play."
Are there tips or techniques you could suggest for women finding themselves unhappy with the drudgery of childcare - tips that might help them reconnect with who they really want to be and what they really want to be doing? (other than being great mums, of course)
"I am loath to give those top tips you read about in woman's magazines which tell you to sit down with a cuppa and put your feet up... It sounds trite to me! Often you just can't be doing what you want to be doing. And actually, often you are far from doing what you want to be doing.
"My personal philosophy is that during these years there probably isn't often when you can connect with who you really want to be apart from being a great mum and trying to be a supportive and loving partner/wife. I tell myself that these few years are not long in the grand scheme of things and I will be able to be who I want to be and do what else I want to do in a few years time. I can end up feeling resentful, that I'm providing and caring for everyone in the family, including my partner in his career, when mine is standing still, but then I wouldn't have it any other way, so I just 'suck it up'.
"When I feel things are getting on top of me and I'm unhappy with the drudgery, I'll tell my partner I need a 'mental health' day - I leave the house and wander around the shops, along the beach. I don't have the energy at those times to find my creative groove, but I do need to have time without demands placed upon me.
"It also makes me feel better when other mothers doing what I'm doing, tell me they scream and lose it at their children occasionally too. Not politically correct I know, but honest. I do now have a 'shouting wall' where I go to let off steam when it all gets too much. I felt guilty at shouting at my children. A wall has got to be better!"
What about the children themselves - what can mothers and fathers do to encourage creativity in their children?
"Young children frequently experience 'flow' - when they get so absorbed in something, repeating it time and time again, exploring all there is to learn about the properties of some object or other. That is why children are inertly creative - they are free from fear of failure, there is no such thing as wrong and they are just so curious. Studies show the blocks to creativity are the quest to find only one 'correct answer' - having time pressures placed upon you and being restricted from exploring alternatives.
"Translating this into practical tips for bringing up children would mean moving away from telling children during play that there is a right or wrong way of doing something. I often see parents saying to their children 'No, Mr Potato Head's hat goes here' and the parent replacing the hat in the 'right place'. There are many ways children can play and who are we to dictate how they should explore? Major breakthroughs have happened as a result of different things being put in different places, previously never before tried.
"Children are happier and less stressed and more motivated and autonomous learners in a slower, more relaxed environment - i.e. at home. Most days, in our home we do one 'going out thing' per day. We have a slow pace of life, where I try not to achieve too much in a day. This avoids me getting stressed and also the children.
"Finally, try to encourage exploration, even if it means getting wet, messy and frightening me a wee bit. It breaks my heart when I see parents pulling their children out of muddy puddles, not allowing them to go out in the rain, climb trees or sit in the mud, making mud pies.
"That is why Playcentre's philosophy of 'child initiated play' and 'families growing together' really fits in with my way of thinking. There is no dictated structure to the session, with children free to explore different areas of play, whilst being supported by either their parents/caregivers or other adults they know well. I know people say that Playcentre is a big commitment for parents, which it is, but there is no other early childhood model in which parents can support and be so involved in their child's learning and learn alongside their whanau too."
What kinds of lives (what kind of "rich") should be encouraging our children to strive for?
"We discuss a lot in the book about the importance of finding your passion in life. I would be striving for my children to find their interests and follow them throughout their lives through their career. I try to do this now at an early age by supporting their current interests both at home and at Playcentre..
"For example, Tom is into volcanoes at the moment so we have been to the library and got the books out, done volcano erupting experiments with bicarb of soda and vinegar in the sandpit at Playcentre, we purchased a book on Rangitoto, Tom was taken to Rangitoto by his grandparents, we went to Auckland Museum... So, once you have identified your child's current passions or interests you can then extend them.
"Using open ended questions like 'Why do think...?', 'What would happen if...', 'How do you think it works?' all help to scaffold and build a child's learning. We are all better learners when we are interested in the topic. With older children, you can take their interests and use them in other areas where they are not as strong.
"We talk in the book about multiple intelligences, Howard Gardner's theory. I think it is important for a parent and their child to be aware of their dominant type. Our education system favours the verbal linguistic and mathematical logical intelligence, so if that is your child, then great, school will probably work for them, however if you have a child who has a different dominant intelligence, such as physical, (who wants to use their bodies in a physical way such as dancers/athletes) school may not appeal to them so much or give them the opportunities to extend themselves in that area. Being aware and supporting your child in their strong areas is vital. We can't all be the same."
* Relax and Grow Rich
How to life a successful, satisfying and sustaining life, by Mike Hutcheson and Claire Wadey, $34.99, Harpercollins Publishers.