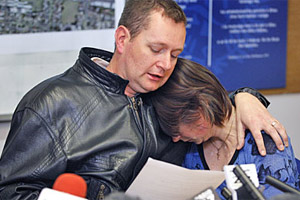 Oh God. Oh God. The worst nightmare of mothers and fathers everywhere - and particularly the parents of little Aisling Symes - appears to have come to pass tonight with the news a toddler's body has been found at a property adjoining the spot Aisling last played with members of her family.

I can not even imagine how horrific the experience is for the Symes family, but I know that parents everywhere have done nothing but shiver in horror every time this story is mentioned.

One friend of mine couldn't even follow the coverage because she couldn't bear it - and I'm sure she's not the only one.

How many parents spend time thinking of losing their children to something terrible? Many of us, for sure. I know I do. For some reason, each night before drifting off to sleep I concoct some fevered imagination in my brain which sees one or other child wiped out before my eyes and I am helpless to do anything.

Losing any child is beyond the pale, but for some reason losing a two-year-old is so poignant. They are so little, so uninhibited and wild, and yet often teasingly showing their parents glimpses of the person they are going to become. They can say a few words, sing a few notes and melt glaciers with their smiles. They've lived so much of the good life already - if they are lucky - but have so much more to bustle about doing.

A story like this brings it home for us how important it is to be ever-vigilant with our toddlers - and this is absolutely not meant as any disrespect to Angela Symes, who seems to only have been doing the same as any one of us has in our years trying to run households, hold down jobs and raise children.


For those that constantly harp these days about toughening children up, letting them experience danger, not putting them in cotton wool, I say walk a mile in the shoes of Angela and Alan Symes before blithely spouting such nonsense. It's all very well to hark back to times gone by, but they were also very dangerous times for children. Farms and homes have claimed hundreds of young victims when curiosity drove them out of their parents' line of sight.

Whatever the outcome of tonight's unimaginable find is, our thoughts are naturally with everyone involved. From the cops who have had to immerse themselves in this miserable situation each day, to the parents and family who have lived every agonising hour waiting for good news since last Monday, and of course for the little girl, Aisling Symes, whose short life has touched every corner of New Zealand.
Pictured above: Alan and Angela Symes comfort each other at a press conference held during the search for their missing daughter, two-year-old Aisling. Photo / Sarah Ivey