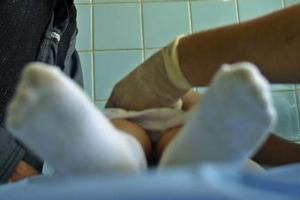 Never once in the three and a half years that I have had a baby, then toddler, and now a pre-school boy, has the subject of circumcision ever raised its head - forgive the pun.
That's perhaps about right, because only ten per cent of the male newborn population of New Zealand undergo this procedure.
On the odd occasion it's done for medical reasons, other parents believe it to be more hygienic, but in the main the reasons are cultural/religious - the babies are Jewish or Muslim (Polynesians are also circumcised but usually later as a rite of passage).
As we are not any of the above we follow the "live and let flap" philosophy, as do most of our contemporaries. Funny, really, because most of the fathers of today's young children would have themselves been circumcised, as the procedure was routine up until the late 1970s.
But it may not be long before public health officials push New Zealanders to rethink the issue.
That's because the Center For Disease Control and Prevention in the US is mulling over whether routine circumcision of all baby boys born would reduce the spread of HIV, the virus that causes AIDS.
According to The New York Times, clinical trials in Kenya, South Africa and Uganda found that "heterosexual men who were circumcised were up to 60 per cent less likely to become infected with HIV over the course of the trials than those who were not circumcised".
Routes of HIV transmission are very different in Africa from the US, and so African studies mainly involve heterosexual men at risk from female partners.
Whether this data would necessarily provide answers to the US AIDS problem, which is mainly confined to the homosexual community, is unknown.
But what is known is that the tissue in foreskins is more susceptible to HIV infection, and that uncircumcised men have higher rates of many STDs, not just HIV.
Is it a reason to preemptively remove them in newborn boys?
In the US debate, opponents of President Obama's universal healthcare plans have seized upon this new thrust in public policy to once more demonise his supposedly 'nanny-state' ideologies.
Just a few days ago, that final word in all things conservative claimed this, according to Salon.com: "It is President Obama who wants [to] mandate circumcision... And that means, if we need to save our penises from anybody, it's Obama."
It doesn't seem likely to me that President Obama wants to remove the foreskins of American males (above his other pressing issues), and I'd hazard a guess that universal circumcision is even pretty low on John Key 'To Do' list.
But that doesn't mean the debate might not be one soon coming to a newborn circle near you.
- Dita De Boni
* Dita is now on Twitter, follow her Keeping Mum feed here.
Pictured above: A Muslim boy is circumcised during a rite of passage in Kabul, Afghanistan. Photo / Getty Images