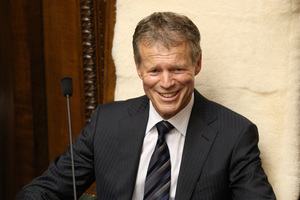 So exits Lockwood Smith as Parliament's Speaker. And to genuine and sustained applause from MPs from all parties.
Off to London to become New Zealand's High Commissioner to Britain, Smith presided over his final ministerial question-time yesterday. MPs took that into account. The session was far less torrid than usual.
In his four years as Parliament's referee, Smith would have adjudicated over close to 300 question-times and around 3600 questions.
Typically, he apologised for allowing yesterday's session to run over time - an apology which provoked the spontaneous applause.
Unfailingly polite - even when lecturing the Herald for breaking the rules in publishing a photo of a man being restrained from jumping from the public gallery into the chamber - Smith could be unbelievably pedantic.
He once ordered a National MP to apologise for saying "welcome back" to a just-returned-from-holiday Labour MP because it was breaching standing orders to refer to a member's absence.
At times his dedication to the job veered into pomposity, his re-routing of the antiquated Speaker's daily procession to the chamber and its funereal pace being a case in point.
Once the House was under way, there could often be too much referee's whistle rather than him allowing the two main parties to engage in no-holds-barred debate. He was noticeably reluctant to grant applications for snap debates - one of the few means available to Opposition parties to hold Governments to account. He was subject to potential no confidence motions from Opposition parties.
Yet no other Speaker has done more to help the Opposition and uphold Parliament's role of ensuring Cabinet ministers are accountable for what happens in their portfolios. His insistence that a minister address the actual question being posed by an Opposition MP rescued Parliament from fast-approaching irrelevance.
Smith's expectation that ministers' responses reflected what they were actually asked made a rod for his back. It annoyed his National colleagues. Labour and other Opposition MPs constantly sought his ruling on the acceptability of ministers' answers. Given an inch, they tried to take a mile.
The Opposition will be putting immediate pressure on Smith's successor, David Carter, to adopt the same approach.
Carter is an avuncular figure who enjoys respect around Parliament for the quiet, modest and unfussy way he has gone about doing a good job in his ministerial portfolios. He will do a good job as Speaker even though he might not have wanted the job. But Smith will be a hard act to follow.