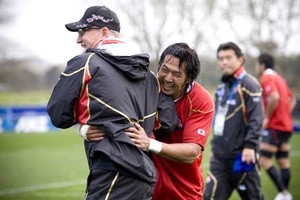 New Zealanders' love of rugby will make this year's Rugby World Cup extra special - and demanding - for players involved, John Kirwan says.
The All Black great and coach of Japan told the Herald it was a "special time" to be in the country and would be the highlight of many participating players' careers.
"Rugby is in our blood. It's in my blood, it's in my family's blood, it's in everyone's blood here. And so there isn't any better place to play.
"The people watching the game know the game, they understand whether you're good or not ... we're in a rugby country, people who understand rugby, and that's a fantastic challenge."
Kirwan said his squad would need to balance that excitement with a strong work ethic to ensure they could return home satisfied with their performance. "So [the players] can go home and say, 'that was the greatest time of my career'."
He said Japanese had a great affection for the All Blacks, and the two countries had much in common in terms of culture and way of life.
That bond had been strengthened through the tragedies of the Christchurch earthquakes and the earthquake and tsunami in Japan.
"It is an incredibly sad time but also there have been great stories of courage and hope," Kirwan said. "There are still people suffering [in both countries] and we need to take them with us on to the rugby field."