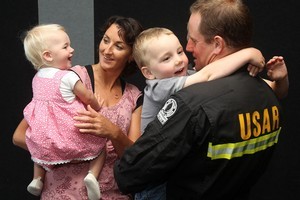 Exhausted New Zealand search and rescue workers were reunited with their families today, having spent nearly a month involved in rescue efforts first in Christchurch and then Japan.
The 52-strong New Zealand Fire Service Urban Search and Rescue (USAR) contingent arrived at Auckland Airport this morning after spending the past seven days in bitterly cold conditions searching for survivors in the costal Minamisanriku area, about 200km north of Tokyo.
Many had not had a break since the devastating Christchurch earthquake on February 22, so were glad to be home for a much-needed rest.
Some rescuers had also been involved in the rescue efforts following the September 4th earthquake in Christchurch, the Boxing Day aftershock and the Pike River Mine disaster.
USAR worker Richard Twomey said working in Japan had been a surreal experience which was difficult to describe in words.
"If you took Christchurch and multiplied it by 100 you'd be getting close.
"To come down the valley to the scene, from the distance it just looked like sticks. When you did get to the beach it was just nothing: 500 houses were just gone. So yeah, devastation on a massive scale."
Mr Twomey said the language barrier had made work difficult, as had the destroyed infrastructure and icy temperatures which reached minus 17C.
Rescuer Ross Whetton, of Wanganui, had just started his two days' leave from the Christchurch rescue effort when he was rushed to Japan.
He had worked alongside Japanese rescuers in the CTV building in Christchurch, and said the two tragedies had brought the countries closer than ever before.
Fellow rescuer Grant Bristow said the Japanese people were extremely resilient in the face of unimaginable adversity and had made their gratitude to the foreign helpers clear.
"Even in Tokyo before we were leaving, a couple of ladies at the hotel were just in tears that we'd come to help them. It was very humbling, they really appreciated the help that we gave them."
Mr Bristow said the tsunami had left "devastation like you wouldn't believe", but the New Zealand workers had left no stone unturned in the areas they had been allocated.
"To put it in perspective, the school was one of the few buildings left standing - it's a big, three storey structure - and it had a mussel farm wrapped around the top of it, so that was spectacular."
Addressing the USAR workers, Minister of Internal Affairs Nathan Guy said it was only right that New Zealand had responded in the way it did, given the support received from Japan after the Christchurch earthquake.
"We know that (the Christchurch earthquake) was hugely significant for our country, we know that we had wonderful support from Japan at our time of need in Christchurch and you felt, and we felt as a government, that it was only right that we responded to their time of need.
"I know just talking to you now and from the regular reports I got that the conditions in Japan were extremely trying for you: minus 17 at times and snow, living in a tent. We are extremely proud of you."
The New Zealanders were there in a rescue capacity but had found no more survivors amid the devastation.
They were sent home after it was decided there was little chance of finding people in the area alive.
- NZPA