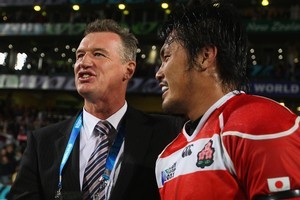 I love international rugby, I love what I do and I love World Cups ... John Kirwan John Kirwan is in no hurry to make a decision over his future role in rugby.
Kirwan has been in charge of the Japan national team since 2007 and his contract is up for renewal at the end of this year.
Japan's Rugby World Cup campaign came to an end with its 23-all draw with Canada, leaving it without a win at the tournament since 1991. Japanese media reports after the match quoted Japan Rugby general manager Osamu Ota as saying it was time to look for new leadership.
But Kirwan does not want speculation over his future to become a distraction.
"I don't want to take anything away from this tournament. I just want to take some time out," he said.
"I'll make some decisions after the World Cup for sure."
Should he step down as Japan coach, Kirwan hinted he would prefer to stay in international, rather than club rugby.
"I'm going to continue coaching," he said. "I love international rugby, I love what I do and I love World Cups, and so, I'll have a look at the options."
Japan team press officer Hiroshi Sakata said that no decisions have been made at board level for the time being regarding the coaching role.
He said an overview of Japan's World Cup has to be presented to the board before any decision can be taken.
Japan was beaten in its three other Pool A matches: thrashed 83-7 by New Zealand, losing 47-21 to France and 31-18 to Tonga. But, under Kirwan's leadership, the team thrilled fans with its attacking brand of rugby.
Should this be his last tournament in charge of Japan, Kirwan hopes he has offered a glimpse of a brighter future.
"I think rugby in the second tier is a journey. I'd like to think I've left what they need to do to play at the highest level," he said.
"Because what you see is the tip of the iceberg here, we need to change a lot of things if we can. Hopefully I've left something of how we should play and what the game's all about."
Japan led Canada by eight points with only six minutes remaining on Tuesday night, and also had France under severe pressure in its opening match when it was only a try away from taking the lead midway through the second half.
Those were both key moments when the match slipped away from Japan, and Kirwan thinks the mental aspect of playing calmly under pressure is what his players still need to improve.
"Yeah, for sure, you need great coaching, you need great players, but I think at the level we're talking about today it's about understanding pressure," he said. "You cannot prepare for World Cup pressure. I told them that at 25-21 we can beat the French, because the French are panicking because it's World Cup.
"Not for any other reason than it's World Cup and it shouldn't be happening to them," he added, reflecting on that game.
"At that moment there, if you worked for a penalty instead of working for a try and pushing things [too hard] ... they're better than us but it's a World Cup moment."
Against Canada, he added, "We did everything we could to win the game and we probably should have won it ... World Cup moment."
Kirwan won the World Cup with New Zealand in 1987 and remains one of the finest wingers to have played the game.
As an All Black, he had to make key decisions under acute pressure all the time.
Staying within the flow of the game and not panicking is what sets top players apart, and that is what he has tried to get across to his Japan team.
"I call it internalising. So you start to internalise, you start worrying about what's happening rather than action ... so they started dropping uncharacteristic balls, stuff like that," he said. "Competition is how you get better under pressure. I would say that most [great] New Zealand players are those, not with the most ability because we have ability everywhere, but those that can take the pressure.
"You can't prepare the All Blacks for what happened against France four years ago," he continued, referring to New Zealand's shock quarter-final defeat to France at the last World Cup. "But they can learn from it, and the next time they're in they'll be OK."
Despite Japan's failure to win a match this time, Kirwan was full of praise for his players.
"I just said in the changing room: 'Four games of rugby, three man-of-the matches'. That shows how we played some great [rugby], we should be proud," he said.
"Like I said, we've got to start winning games under pressure. Japan stole a draw [against Canada] in the last World Cup, now we're disappointed with a draw. That's how far we've come."
- AP