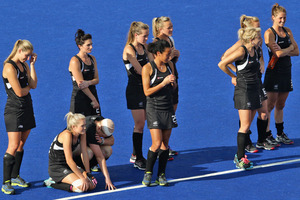 New Zealand yesterday played one of the more extraordinary hockey matches in their history, losing 3-1 to the Netherlands on a shootout.
In normal time they held 1-0 and 2-1 leads against the No1-ranked side in the world. They had chances to win, but then again, so did the Dutch.
New Zealand, under the tutelage of Mark Hager, now have the difficult task of lifting themselves out of despair as they prepare to face Great Britain in a bronze medal playoff.
Unlike boxing, where losing semifinalists are awarded a medal by rights, you don't get anything free in hockey. This has been an amazing campaign full of firsts for the Black Sticks, but the question remains whether they can achieve one more: a maiden Olympic medal.
The Herald talked to some of the main protagonists from an incredible match.
The brave
Katie Glynn was whacked across the back of her head in the first half of the semifinal when Ellen Hoog did not notice she had got between her and the ball as she was about to shoot. Glynn left the field dazed and bloodied and was not expected to return.
At 2-2, with the match on the line, Glynn decided she was more use to the team on the field so returned to the fray, her head in a bandage. It was stirring stuff, one for the annals of NZ sporting bravery. In the end, it was her heart hurting more than her head.
What can you remember about the accident?
"I felt a bit of pain and everything went a little quiet. When I hit the ground it took me a while to get up. I'm [still] a little bit dizzy."
What have been the keys to this team's success at this tournament?
"We are a team that works hard. Just want be there as a group, got ourselves through and worked to the end. We had some self-belief to get where we are."
How tough is it to lose on a shootout? "It is obviously a pretty cruel way, but we've got to be proud of how close we came. Now we pick ourselves up for the bronze."
The good
Along with Kayla Sharland, Stacey Michelsen was the pick of the Black Sticks against the Netherlands and has been consistently good this tournament. Michelsen's ability to consistently beat her marker with superb close control draws in other defenders and creates space for others.
"Obviously it's so disappointing for us but we took it to them and did everything we could," she said. "We missed some opportunities but so did they. It was such an even game so even though we're so disappointed we didn't go through in the end, we never gave up and just kept going."
New Zealand came into this tournament ranked sixth, but have not looked overawed or overmatched against anybody.
"Teams are respecting us. We've improved so much. We are getting closer to the best teams," Michelsen said.
The 21-year-old showed calm beyond her years in the shootout, when she was the only player to beat Joyce Sombroek.
"I knew if I got myself too worked up I'd make a mistake. I tried to go into it calm because if you go in too nervous you could easily make a silly mistake."
Michelsen said there was no chance the team would struggle to raise themselves again for one last match after such a crushing disappointment.
"Come today we'll focus and we'll be really coming out to win the bronze. We won't be still depressed from this game. You don't want to finish on a bad note."
The defiant
Anita Punt was the last Kiwi to miss in the shootout, dissolving into tears when Hoog subsequently scored to take the Netherlands through to the final. Minutes later she was happy to talk through her thought processes before her ill-fated attempt.
"It's personal preference where you want to go. Until you run out you don't really know what you're going to do. You have a fair idea what you're good at, but it depends on the goalie. If they come out you've got to try to get them down so you can dribble around them. If they stay up, crush it past them. At the time you have to make quick decisions. You feel the pressure because I knew if I missed mine and they got theirs, it was all over. It's just part of the game."
The optimist
Bianca Russell has been a standout in goal for New Zealand. Filled with emotion and pride with the way the side played, she talks about the key ingredient she believes will earn her side their first Olympic medal.
"We're not lacking in character, this team. When we started this tournament we would have been thrilled to bits with any medal, so we've got to keep everything in perspective. We've got a bit of time to turn it around. Of course, we're going to be disappointed. We're so close to the shiny ones [medals], but any extra jewellery going home is fine by me."
* The Blacks Sticks men beat Argentina 3-1 in their playoff for 9th and 10th last night.