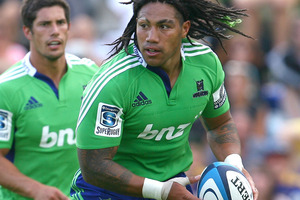 The Highlanders are celebrating a record number of season ticket holders - 4000, up from 3032 last season.
Alongside this increase, the total number of pre-paid tickets sold stands at just over 8000, according to the franchise.
The Highlanders begin their season by hosting the defending champion Chiefs on Friday night.
Highlanders general manager Roger Clark was thrilled by the sales result.
"It's a great result, and putting it in perspective, we now have more season ticket holders than do the Chiefs, Crusaders or Hurricanes,'' he said.
"We had to do a lot of hard work both on and off the field to re-engage our community over the past few seasons, and this result is a reflection of that work. A big thanks to those fans who have stuck with the team, and also to all the new season ticket holders who have joined the programme.
"Forsyth Barr Stadium has been a big part of the resurgence, as well as the results on the field and the style of rugby the team is playing.''
Clark said the off-season signings of Brad Thorn, Tony Woodcock and Ma'a Nonu had helped increase interest and support.
In 2010 the Highlanders hit a low of 890 season ticket holders, but progress over the last three years has been impressive. The retention rate of season ticket holders from last season has been 97 per cent, the franchise said.
"We've currently sold just under 14,600 for Friday's game against the Chiefs, which includes all season tickets and members, so things are tracking well for our first home game of the season,'' Clark said.
The Highlanders have three home games to start the season; the Chiefs, the Cheetahs in Invercargill on March 9, and the Hurricanes in Dunedin on March 15.
Play Virtual & Fantasy Super Rugby
Test your tipping skills with Virtual or create your dream team with Fantasy Super Rugby and be in to win a slice of over $10,000 in prizes.
Be part of the game and sign up now.
- APNZ