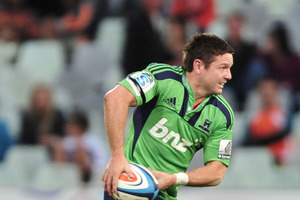 Jamie Johnson says it should be a tough battle against the Sharks.
A year older, and a year wiser. Experience will be a key for the Highlanders in their run home as the side looks to make the playoffs for the first time in a decade.
The Highlanders are in fifth position on the table, with seven wins and two losses, and take on the Sharks in Durban on Sunday morning (NZ time).
The team had the same winning percentage last season but the wheels fell off in the run home, picking up one victory in the final seven games.
Coach Jamie Joseph said more experience in the side should help it overcome any jitters on the final stretch.
"It is a different team this year. Last year we had the likes of Lima Sopoaga, who was only 19, playing in a key position," Joseph said.
"This year there are a lot of older heads out there. You've got the likes of Andrew Hore and Jason Rutledge in the front row with a lot of experience and guys all round the team. They have a calming influence on the team.
"You're talking about some guys who have played 60-70 tests and have been around. These guys do know what to do when the heat goes on."
The Highlanders managed to squeak out a victory against the Cheetahs last weekend, coming back from a 21-point deficit to win the game in the final minute.
Joseph said the side had a reasonably busy week as it tried to atone for a sloppy first half against the Cheetahs.
"You need to train to fix the things which did not go right last week. It is a fine line."
The Sharks are sitting mid-table and are coming off a bye after playing nine straight games.
"They are a quality side and ran the Chiefs really close and perhaps should have beaten them. They beat the Blues quite easily and would have been disappointed in their game against the Hurricanes.
"They are a pretty complete team with good strong forwards who are obviously pretty keen for a win. So are we, so it should be a pretty tough battle."
The Highlanders have lost the past five games against the Sharks, although under the format of the Super 15 draw the sides did not clash last year.
The Durban-based side could be bolstered this week by prop Tendai "Beast" Mtawarira and No 8 Ryan Kankowski, who are coming back from long-term injuries.
The Highlanders face selection issues after openside flanker James Haskell was banned for three weeks for throwing a punch in the Cheetahs match. Joseph said Doug Tietjens was an option although Adam Thomson had played test matches at openside flanker.
Siale Piutau is likely to come back into the starting side on the right wing after impressing off the bench last week.