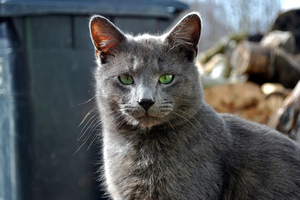 Consider the definition of a psychopathic personality: it will typically display persistent disregard for the rights of others and the rules of society; an absence of empathy or remorse; and a limited emotional range. Psychopaths are generally callous, selfish, dishonest, arrogant, aggressive, impulsive, irresponsible and hedonistic - but they can also be superficially charming and can be highly adept at manipulation.
It's hard to think of a more accurate description of the individual currently sleeping in the warmest spot in the house while waiting for the next saucer of milk. That's not a pussy cat; it's a psychopathic killer.
The archaeological consensus is that humans didn't domesticate cats; cats domesticated themselves. They found in human settlements a reliable food source, including the rats and mice in grain stores. These days most homes don't have grain stores or even vermin. But the cats are still here.
We are enthusiastic cat-owners. Our domestic cat population varies between 1 million and 1.5 million - the upper range is the one put about by pet food manufacturers whose count may not be reliably dispassionate - and many cat-owning households have two or more moggies.
And the reality is that they are the animal world's equivalent of Jekyll and Hyde. Cute and fluffy at home, they revert outdoors to their primitive instincts, hunting and - if they have not been deprived of the necessary equipment - philandering indiscriminately and voraciously.
The death toll is high. And cats, not being conservationist by nature, aren't much fussed what they catch. A tui or fantail is just as much fun to stalk and catch as a sparrow or a mouse and, contrary to popular belief, well-fed cats are no less likely to hunt and kill than hungry ones. Predatory mammals in an avian Eden, cats kill tens of thousands of native birds a year - an average of 20 each by the more conservative scientific counts.
Little wonder that there is mounting pressure from the SPCA to bring them under control. The Hamilton branch of that organisation this week called on the city council to impose a dusk-to-dawn curfew on cats. The initiative was an attempt to stop cats from mating, which might go some way to reduce the numbers of stray cats that hugely swell the populations cited above.
But the idea has merit as a way of controlling the slaughter as well. Cats are hard-wired to hunt at night, when their eyesight gives then an advantage over their prey. Keeping them inside would do much to limit the damage they can do.
The idea is neither radical nor unprecedented. Councils in parts of Melbourne and Sydney have imposed curfews and some are actively exploring the idea of microchipping, registration and compulsory desexing. Similar calls are being made here.
The least such ideas deserve is an intelligent and reasoned debate, rather than simply being dismissed as nanny-statism. New Zealanders have - far too slowly - come to accept that dogs must be under control at all times, but the argument for applying the same rule to cats is, if anything, more compelling.
Only the most irresponsible of dog owners would put the dog outside at bedtime, to wander at large all night, killing anything smaller that it comes across. Yet many cat owners do just that. It is not adequate to argue that it is in the cat's nature. It is time cat owners took responsibility for the environmental damage caused by their feline companions.