Olympic gold medallist and canoeing world champion Lisa Carrington's career on the water has only just begun, writes Alan Perrott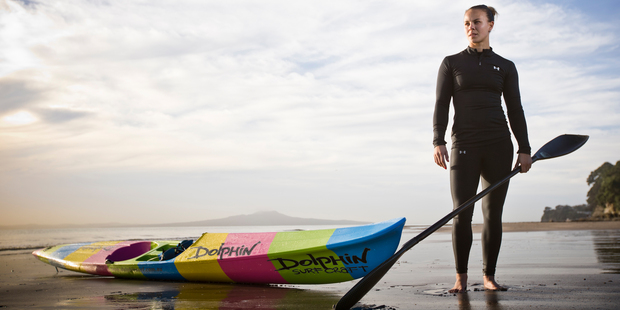 Even if they could remember who won, it wouldn't matter.
What did and still does matter, says Lisa Carrington, was that she'd shown real balls for the first time; quite an achievement for an 11-year-old girl - a tiny, no-name cadet from the Ohope Surf Club's B-team at that.
The surf on Taranaki's Oakura Beach had been pretty wild that day, but she hadn't hesitated - well, not much anyway - when it came to her turn to race.
"I was looking out, thinking, 'we have to go out there'," says Carrington. "It was scary."
Several bigger girls had already refused to enter the water and, of the others, few had made it past the breakers.
Coach Bevan Porter came over for a pep talk.
"It was pretty big out there and a few girls had been smashed, but I just kept telling her she could do this. Just time your run, get round the buoy and hit the wave.
Do it and get out."
Actually, there was never any doubt she'd try, if only to avoid the jibes she'd get from her two older brothers. Carrington gripped her kneeboard tightly, waited for the gun, and took off. As she was preparing to head back in everyone on shore took an anxious breath.
"This set [of waves] just popped up behind her," says Porter, "big waves, tonnes of water, and she dropped down on to one. She looked so tiny, then when it broke her whole board flipped up ..."
"I'd shut my eyes and was hoping for the best," says Carrington. "That was a hairy moment, but I still felt safe in the water, it's how I'd grown up and I was racing, it's what you have to do. You can't play it safe if you want to win but it was good to know that even at that age I had the balls to do it."
As ever, her mother, Glynis Carrington, was there to watch.
"She admitted she'd been frightened, but I was never going to tell her not to try. It gave her courage, I knew there was plenty of help around if anything happened. It was still a challenge, it took her out of her comfort zone and to the point between playing safe and facing your fears."
Coach Porter was proud of his young charge. "She wasn't freaked out at all. All she said was, 'oh, that was intense'. That was when I realised this girl was something special."
The first hint the rest of us got came a few years later when she won her first canoeing world title in August 2011.
Sure, she'd won and that's obviously great - not to mention unprecedented - but after seeing her in action on the television all anyone wanted to talk about was her shoulders: "Did you see her guns? Um, who is she?"
It isn't often a world champion pops up from nowhere. Or Ohope, for that matter.
But sport was always going to be Lisa's thing; the Carringtons are like that. Parents Patrick and Glynis sprinted in the summer, played rugby or netball in winter and still coach, while her brothers, Shaun and Brett, were already winning surf lifesaving medals by the time their sister discovered her competitive streak.
She was 8 when they moved from Opotiki to Ohope, with the beach as a backyard. Water safety was an obvious concern, so the parents enlisted their brood at the local surf club.
The boys thrived, hitting the water as often as possible to train and play. Little Lisa was never far behind.
"She was only a little girl and very young, but without her even realising it," says Glynis, "she was training really hard. Lisa's always loved the water and she had this huge capacity for work, it didn't matter how puffed she was she kept on going, and there's no way the boys could do anything without her wanting to do it too."
Her drive was reinforced at home. "We have this family ethos: 'If you're going to do something, do it as well as you can and see it through.' We were lucky she had so many good local role models as well."
Yet few watching her in those early years would have seen a champion in waiting.
"I went through the age groups and did okay," says Carrington. "I won a couple of medals but it wasn't as if I was awesome or anything."
In fact, it looked like her best prospects might lay with netball as a wing-attack-cum-centre, especially when in 2004 she was selected to join a Bay of Plenty squad that was leaving to train at an Australian academy of sport, her first overseas trip.
Unfortunately for the Ferns, Carrington's growth spurt spluttered early, but her ready turn of speed proved invaluable in surf lifesaving's flag racing and she began showing real ability on the surf ski.
Physically, she was the whole package. But to rise above the pack she needed to master the subtleties of technique and her parents took every opportunity to get her help.
In 2006, after hearing champion Ironman and four-time Olympic gold medallist Ian Ferguson had a bach "over the hill" at Lake Rotoehu, her father got on the phone to ask if his daughter and her surf club teammate, Jaimee Lovett, could get a few lessons. It turned out to be a genius move.
"She was a natural," says Ferguson. "People think paddling is simple, but it's not just about using your hands and arms, you're twisting your whole body, you're feeling the water. It's the difference between 2D and 3D, and she showed she had the flow from the start."
Then there was the attitude he's seen in all successful surf lifesavers, a sport where you can be stronger, fitter and faster than everyone else on the beach but if you catch the wrong wave your most hopeless opponent will still beat you.
"That kind of thing teaches you to be humble," says Ferguson. "You learn how to win but you also learn how to lose, and she has that, too. She never seems to panic or talk things up, or down for that matter. She just puts her hand up, gets out there and does it. It's part of this hard-wired belief in herself - she is very competitive. That approach eventually won her gold."
Ferguson's help paid off immediately. A few weeks after their first session, the Carrington/Lovett pairing won 10 medals between them at the national sprint championships before going on to claim the under-19 K2 (pairs) titles at the New Zealand Canoe Racing Regatta, a trial for the Youth Olympics to be held in Sydney in January 2007. While Lovett was already in the New Zealand high-performance squad - earmarking her as a future elite athlete - Carrington won both of the K1 (singles) races when they went head to head.
All the same, dedicating herself to this new sport wasn't easy for the 17-year-old. She thrived in a team environment and had a social scene based around playing netball for Whakatane High School.
But once her newfound abilities threatened to deliver national honours, netball had to go. "That was hard, especially with all the training I was doing on my own. At that age you want to be hanging out with your friends, having a great time, so yeah ... But my friends were great, they still are, they understand sport. So even if I wasn't going to all the parties, we hung out when we could."
The closest she got to her Year 13 ball was a few tired and emotional text messages from her friends. It did help, though, that she was wearing the black singlet and competing in the Czech Republic at the time. And that she'd discovered a whole new thrill in being named in a national representative team.
That confidence shot allowed her to think she might get quite good at this. "And I'd never raced internationally before, so that was cool to be part of, even if I may not have appreciated the places we were travelling to at that age. And I think it was the best time to see how it felt to be in a New Zealand team without any big expectations or pressure."
And to think she'd been canoeing for only a year.
Everything got more serious in 2008 when she moved up to Auckland and away from her family. "That was hard, it was my first move away from family, my friends had gone to university in Otago or Christchurch and it was a wee bit intimidating joining an established training group with people like Steve Ferguson [son of Ian] and Ben Fouhy. I was the youngest and I still hadn't proved myself. I've lived here ever since, but I'm still not an Aucklander."
Jafa or not, Carrington had to knuckle down as the pressure rose. "When I started it was about getting out there with no idea how I was going to place, but when you join the open teams you have to get results to get funding, and then, eventually, the Olympics come up for grabs."
A bronze alongside her new offsider and longtime surf lifesaving opponent, Teneale Hatton, at a world cup meet in Hungary in June 2009 was followed by a seventh-place finish at the world champs two months later, but the last thing she needed came the very next year when her sport's association and Ian Ferguson, its greatest Olympic champion, went to war.
"I was helping Lisa at the time, but then something at the top of [Canoe Federation New Zealand] went wrong and basically I wasn't re-employed," says Ferguson. "So her career became all about her new coach [Gordon Walker] and you'd have to say everything has worked out in the long run. But I'll be following her career forever. I want her to win and just keep on winning, there's no better feeling."
This isn't a period Carrington enjoys discussing; reflection comes a distant last to preparing for whatever's next. But: "There was a bit of turmoil, so it was really important to keep doing what I did best and avoid the negatives. I had a lot of people who helped me stay in a good place."
And there's no denying that Walker's arrival on the canoeing scene triggered something special. There she was, in August 2011 and in all her muscled glory, winning her - and New Zealand women's canoeing's - first world title in Szeged, Hungary. And without a teammate in sight.
"Wow," says Carrington, "that's when everything changed. It was unreal, going from usually just making the cusp to being the top. Then the pressure became totally different. But I probably hadn't done anything worth noting before then so it was nice to know I had the goods."
Yet in the back of her mind she knew at least four top-ranked sprinters hadn't shown up. She wouldn't know if she was faster than them until the London Olympics the following year, where she would compete in the new K1 200m race. But that was too late to get any quicker.
For everyone who watched her win gold, and that was most of the country, it might seem odd that her strongest memories involve everything that happened around the race rather than the race or even the result. Even in the starting blocks she made sure to soak in the whole scene. There's no guarantee it'll come again.
There was no such restraint in Ohope. Everyone knew when the Carringtons were leaving for London. Bevan Porter even painted a set of Olympic rings with "Go Lisa" on the road for them, and there was scarcely breathing room in the surf club come kick off for her race.
Her game plan was simple enough: pour every gram of aggression she had into the first 12 strokes, push hard through the middle 150m, then hang tough to the end.
Porter reckoned he knew she had it in the bag when he saw her smile. Carrington laughs and says it was a grimace of pure pain.
"Every muscle just wanted me to stop and I could barely move my arms, well that's what it felt like, but I knew I wanted to win and I had to hang on. Seriously, that's all I was doing, hanging on to the finish. If the race had been just 10m longer I'd have needed a completely different strategy."
Then came the payoff, even if to begin with she was celebrating alone in a tiny boat.
"I kept thinking, 'how awesome'. There were so many people there, the biggest crowd I've ever seen, and they were all there to watch the race. I really made sure I took it all in because afterwards everything was pretty much a whirlwind. Then to be up on the podium, that was so cool. I could see my family in the crowd, my coach and my teammates, then 30,000 people, all of them standing for the New Zealand anthem.
"It's really cool and I have absorbed it. I know I'm the world champion, I know I'm a gold medallist, but they are not defining moments in my life. I haven't finished yet and to be honest, things like that aren't a part of what I work for. They're obviously things I like to achieve, but they are outcomes, not inputs. It'd all be hollow if I hadn't taken the journey to get there."
"That's one thing about Lisa," says her coach, Gordon Walker. "She's able to focus on what it takes to be good. She doesn't worry about much, she doesn't get caught up in her own image and it can't be understated how much of a challenge that is when you've got huge billboards of yourself all over town."
To help, Carrington takes regular mental breaks. She's almost completed a degree in politics and Maori studies (she is Te Aitanga-a-Mahaki and Ngati Porou) and last month she won her first surf lifesaving cap as a member of the New Zealand team to compete at the International Surf Rescue Challenge in Japan.
Such breaks are vital, says Walker, as mental strength is as much a part of her arsenal as her legendary power-to-weight ratio, details of which he treats as a state secret. Besides, she's still only 24 and has plenty of improvement left in her.
An illustration of the determination to carry her form through to the next Olympics was her relative failure at the first canoeing world cup meet this year.
Carrington bombed the semifinal and was relegated to the B final. Although she won, it wasn't a result she could accept.
A week later she raced again, beat everyone and recorded the sixth-fastest time ever in the process.
"Now you can't change a lot in a week," says Walker, "and it's easy to say, 'well, I'll just win next time' but to stay optimistic, to stay positive, and to get out there, deal with the anxiety and perform, there's not a lot of people who can do that. Lisa is very good at processing failure. She's always trying to be the best she can be, and sure, everyone says that as well, but not everyone can say that when I'm at my best I can win, I can beat everyone.
"She's got that level-headed Kiwi humbleness, but there's also a bit of [Oracle Team USA skipper] Jimmy Spithill in her when required - if you go to war with her, she'll never give up."
She's still got those balls.