A leading academic claims there is not enough evidence to show a mother's milk is best for her baby.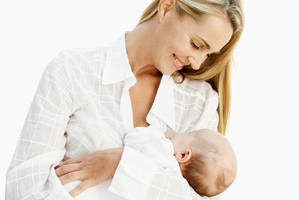 Everyone knows that breast is best. Not a day goes by without more evidence. "Breastfeeding for 20 months decreases risk of ovarian cancer by 50 per cent." "Breastfeeding burns up to 500 extra calories a day." "Breastfeeding reduces infant mortality by 15 per cent."
These are just three stories globally on Twitter over the last few days. But is breastfeeding far and away the best thing? Or are we overstating its benefits?
This week one of the leading figures in a backlash against breastfeeding will argue in an open lecture at the University of Kent, on England's south coast, that "the scientific evidence for breastfeeding's health benefits is weak".
Joan B. Wolf, professor of gender studies at Texas A&M University, contends that breastfeeding has been oversold because of three factors.
First, we have a cultural obsession with eliminating risk, she says. Second, much of the research into breastfeeding is methodologically flawed.
Third, we're in thrall to "an ideology of total motherhood that stipulates a mother can and should eliminate any risk to her children, regardless of how small or likely the risk or what the cost is to her own wellbeing in the process".
Without disputing the fact that breastfeeding does have obvious benefits, increasingly academics are starting to speak out against the limitations of the scientific evidence.
In her book Is Breast Best? Wolf argues that the science behind many breastfeeding studies is problematic.
"In the science we trust most, we do randomised controlled trials. But you can't do that with breastfeeding. The groups are self-selecting.
"Women who choose to go through the labour of breastfeeding have made a commitment to go the extra mile for the sake of their baby's health," says Wolf. "They are likely to be doing all kinds of other things, too. Their homes are clean. They wash their hands. They will be reading more, talking more, serving more fruit and vegetables ...
"When you look at all of those things and hold them up to the very small differences that researchers find, it could very well all be down to these environmental factors."
Tom Jaksic, an expert on neonatal nutrition at Harvard Medical School in the US, has expressed concern that most of the studies are "population-based", meaning that it is impossible to separate the effect of breastfeeding from the combined impact of caring parents and a positive environment.
Dr Nancy Butte, professor of paediatrics at Baylor College of Medicine in Texas, and an authority on childhood obesity, has said that it's "hard to distinguish between a well-cared-for, bottle-fed infant and one who's breastfed".
We are in danger of ignoring the drawbacks of breastfeeding, says Wolf, such as the potential loss to women's earnings.
And we are in danger of "holding mothers accountable for all sorts of things they don't have control over".
"One of the greatest lies promoted by breastfeeding advocates is that breastfeeding is free. But it's not free if you count mother's labour."
Wolf's message has not been received warmly by the breastfeeding lobby.
"Many people were and remain very angry with me." She has been called "a gender-confused cow".
One blogger writes: "It bespeaks great scientific arrogance (of the kind that Wolf supposedly decries!) to maintain that an artificial formula could offer absolutely every crucial natural constituent of mother's milk."
The arguments in the US are hotting up since a "baby-friendly hospital initiative" was launched in New York last year with the backing of Mayor Michael Bloomberg.
As part of the Latch On, NYC campaign, formula is to be kept under lock and key on maternity wards.
If a parent requests it, a nurse must deliver a lecture on breastfeeding and then document a medical reason for giving out the formula.
Unicef UK reported that in Britain, "Only 45 per cent of women reported that they were breastfeeding exclusively [ie no formula] at one week after birth. Fewer than 1 per cent were still doing so at six months."
Breastfeeding in focus
The health benefits: Breastfed babies are less likely to suffer serious diarrhoea and vomiting, have fewer chest and ear infections; less chance of being constipated; less likelihood of becoming obese; less chance of developing eczema. (Britain's National Health Service)
The backlash: "We expect mothers to work to prevent any risk to their children, regardless of how marginal the risk or what the cost or trade-off is to the mothers themselves." (Professor Joan B. Wolf)
- Observer