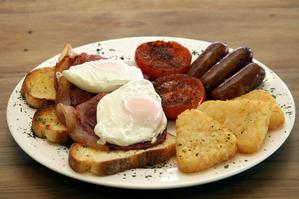 Bacon and eggs for breakfast, that luxury of a lazy weekend, may lose some of its salty tang under a scheme to prevent thousands of heart attacks and strokes.
The Heart Foundation is negotiating with food manufacturers, including the makers of bacon, ham and sausages, to encourage them to reduce the salt they add to products.
This is in line with recommendations by an influential British health agency and welcomed by New Zealand public health experts.
The National Institute for Clinical Excellence, which usually evaluates new drugs for taxpayer funding, called for salt intake intake to be slashed to a maximum of 6g a day by 2015 and 3g by 2025.
It says this can be achieved in staged reductions that nobody's tastebuds will notice.
New Zealanders swallow about 9g of salt a day; the recommended maximum here is already 6g, although 4g is the suggested long-term goal.
Excess intake of salt - of which sodium is the harmful part - leads to increased blood pressure, which increases the risk of heart attacks and strokes.
It has been estimated that reducing sodium intake by 25 per cent would prevent nearly 1000 deaths a year from heart attack or stroke.
Seventy-five per cent of the sodium we eat comes from manufactured and pre-prepared foods, 15 per cent we add at home, and 10 per cent occurs naturally in food.
Our biggest source of salt in manufactured food is bread, followed by processed meats.
In a project started by the Heart Foundation in 2007, bakers and supermarkets have reduced sodium to a maximum of 450mg for every 100g of bread - an average cut of 15 per cent. The foundation says consumers do not appear to have noticed.
Now it is targeting processed meats and breakfast cereals.
A Government survey last year found bacon samples bought in Auckland were the saltiest of four cities, containing 1651mg sodium per 100g. Australia's average is 1243mg, Britain is aiming for 1150mg and New Zealand's target is being worked out.
The founding director of meat processor Hellers Smallgoods, Todd Heller, said yesterday the discussions between the industry and the foundation were "a work in progress".
The company had reduced salt content significantly in response to consumer demand, but it could not go below a certain level because products would not hold together properly.
Sanitarium has reduced the sodium content in its Cornflakes by 31 per cent, to 600mg/100g, and in Ricies by 25 per cent, to 695mg/100g.
Sanitarium communications manager Kim Stirling said the cuts were made in several staged steps and no consumers had complained.
Weetbix contained less sodium - 280mg in 100g - and although Marmite was high in sodium, very little was eaten at one time.
RECOMMENDATIONS
* Maximum salt intake 6g a day by 2015, 3g by 2025.
* Red, amber and green dots on front of food packaging to differentiate healthy and unhealthy foods.
* Substantial cut in amount of saturated fats in processed and catered foods.
* Consider eliminating manufactured trans-fats.
* Extend restrictions on TV ads of unhealthy foods to 9pm.
* Restrict marketing of unhealthy foods on internet and mobile phones.
Source: National Institute for Clinical Excellence, Britain