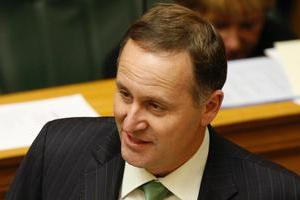 Prime Minister John Key says there will be further negotiations on supporting ACC legislation with the Act Party, and possibly the Maori Party, today.
Mr Key met Act leader Rodney Hide last night.
ACC Minister Nick Smith announced the changes last week and published a draft bill, but needs support from either ACT or the Maori Party to get a bare majority on a first reading.
Meanwhile, Labour said it would support the Government if it put up legislation to do nothing but extend the date that ACC has to be fully funded by - when the corporation will have enough money to cover future costs of claims on its books.
Labour leader Phil Goff said he wrote to Mr Key with Labour's offer and said changing the date would give breathing room before other changes were considered.
"Our offer to date is limited to extending out the full funding period.
That gives us time, it puts the issue away from imposing costs on families who are struggling in the recession."
The extra time may see changes to investment returns which would negate the need for the planned cuts, Mr Goff told reporters.
Labour opposed cutting entitlements.
Mr Goff said the issue had been mishandled.
"The management of ACC has been a shambles as everybody is aware, but now it looks like it is turning into a Trojan horse for privatisation.
"This process has been a real mess. Labour is prepared to help the Government out."
Mr Key said while his party was not philosophically opposed to competition, it would have to be the best option for the public.
Medical practitioners faced confusion with different forms and systems under different providers last time it was tried, he said.
"We're not going to leave our medical practitioners having to fumble their way through a bureaucratic nightmare if we were to open up that account to greater competition."
Dr Smith would not disclose details of discussions with Act or the Maori Party but said the talks were progressing "relatively constructively".
"I'm quite confident we are going to come through with some pretty sensible ways forward for ACC.
"We are a minority government and policy has to adapt to the positions of other parties and that's why we're having discussions with Act and the Maori Party."
There could be policy changes depending on an agreement with either party - "otherwise why would you have the discussions?".
"It is very important for me to get that legislation through, every week that we are delayed makes it more difficult for the public to have a say on those things," Dr Smith said.
It was "no surprise" that Act had brought up privatisation, he said.
Although it was National Party policy to open ACC's work account up to private competition it had not been a priority, Dr Smith told reporters.
He said the work account was more complex which may be why it was appealing to private companies.
He would not confirm it was because it was the most profitable.
Dr Smith said he was happy with how he had handled negotiations over the "complex" and sensitive ACC system.
"The nature of this issue is very challenging. I've got a good constructive relationship with both the Maori and the Act Party, but these are complex issues. They're going to take a little while to work through."
- NZPA