Diana Clement hears the inspirational stories of fellow female novice triathletes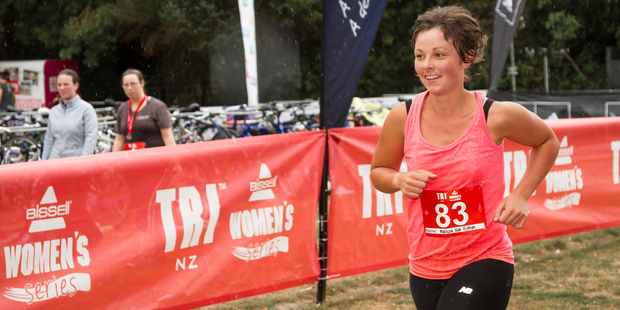 I'm sold on triathlons. My first foray into the sport was more than 20 years ago, and all but forgotten. That is until last August when a friend discovered that anyone, no matter how hopeless, could enter the World Triathlon Championships Grand Final 2012 in Auckland. And so we did.
The bike was given more road time than it had been for years and in chilly September, dressed as a neoprene sausage, I plunged into the waves at Narrowneck Beach for my first ocean swim.
Come October and feeling like I was about to make a fool of myself in front of hundreds of spectators, I lined up at Queens Wharf, jumped off the pontoon and was away for the 3:5:3 Teams Tri at the Barfoot & Thompson World Triathlon Grand Final.
Each of the four members of our team had to complete the entire triathlon before the next could enter the water.
Truth be known, I struggled in the water thanks to race-day nerves and only just managed to drag myself around the cycle and run.
So when the same friends suggested we enter the Bissell Women's Triathlon, I decided it was an opportunity to exorcise the demons. In the middle of February I deposited my bike in the transition area at Narrowneck, laid out my shoes, donned my swim cap and stood nervously at the water's edge, waiting for my "wave" of swimmers to begin the 300 metre course.
This time I managed to get my head down and left the water in a respectable 66th (of 103 places).
Far from needing to be a super-athlete, triathletes come in all shapes and sizes - especially at women-only events where the emphasis is on participation, not competing.
For anyone who doesn't feel up to doing the entire triathlon there are multiple options.
That may be doing the duathlon, which is usually a short run, followed by a bike ride and another run. Or it's possible to enter as a team with three people doing one leg of the triathlon each.
Nicci's story
When Nicci Halliday steps up to the startline for a duathlon, half marathon or other event it's more than a dream come true. Two years ago, weighing in at 116kg, Nicci, 47, would have never have dreamed that she would one day be a size 8-10 and enjoy exercise. It was a combination of son Ben's unexpectedly poor Year 9 school results and both her children's embarrassment at her size that started the dramatic change in Nicci's life.
Nicci and Ben agreed on a pact in August 2011 that if she could go to the gym, which happened to be in Ben's school grounds, then he would study and improve his results.
Mum, who wanted her son to get sufficient credits to graduate from Year 9, started going to the gym every day.
As the weight came off, Nicci was able to walk up the stairs at the gym. Then, to her amazement, she started running.
One goal led to another and soon she had ticked off several running events, a half-marathon and then two woman-only duathlons, including one of the Bissell Women's Series. By June last year Nicci had lost 54kg.
The Kaiapoi-based family set goals, with rewards being trips to Auckland. When Ben hit one goal the family headed north to see the Walking With Dinosaurs show. On another occasion Nicci was allowed to go on the trip only if she could fit size 12 jeans by departure date. She got on the plane wearing those jeans.
Although Nicci has competed in both open and women-only events, she prefers competing against other women.
"Women aren't as competitive as men and they don't tend to get snotty if you get in their way. Women are much more easy going," she says.
Nicci's story is one of hundreds of motivational stories collected by the Bissell series organisers. Many entrants wanted to get in shape after having children. Others were in remission from cancer, and still more were encouraged by their friends and/or family to leave their couch potato lives behind.
Here are just a few of their stories:
• "I was diagnosed with rheumatoid arthritis at 26. Last summer it had got so bad I could not dress myself let alone run. At the end of summer I was put on some heavy duty immune suppressing drugs that have almost halted the disease. I can now do almost everything, so I'm making the most of being 'normal' and pushing myself."
• "Eighteen months ago I made a decision to quit smoking. After 12 months my weight had escalated so I decided to join a local gym. I had never walked further than my car let along jogged before, and had no idea to operate any of the equipment. Needing motivation to continue with my fitness programme, I decided to sign up for my first triathlon, which I am really excited about."
• "I was diagnosed with breast cancer in 2002. As a mother with four young children this was a huge shock. With lots of family support I was able to beat the 'beast'. This is my way of saying: "Hey I'm alive! Cancer doesn't have to be the end."
• "I am 11 years old and this is the second year I have competed in this event. One day I want to be a professional triathlete or soccer player. My whole family is involved in triathlon."
• "My three kids have been doing the Weetbix Tryathlons and as their number one fan, coach and supporter I thought that I should show a good example and do one too."
• "I wanted to stop what my family calls the "Polynesian syndrome": diabetes, high blood pressure, asthma, and heart disease. And I love life."
• "I am a new widow and now have to look after myself a bit better for our daughter's sake as well as my own."
Getting started
Everyone's story is different. I've exercised all my life. It was a matter of turning my attention to mastering a new discipline.
For others the journey from couch potato to triathlon or 10km start line is a transformation of their lives.
Experts say anyone beginning to exercise for the first time ought to get a medical checkup from their doctor.
If they pass that, it's a good idea to buy the right gear. Having the right running shoes, for example, can prevent injuries and a swimming wetsuit helps you float, which is a confidence booster.
The next step is to find a programme for beginners. It's all too easy to get too enthusiastic and walk away with an injury or burn yourself out psychologically if you just go hard at it from day one. Easing yourself into exercise is essential for long term success.
Most programmes will start with a run/walk combination for running and doing single lengths of the pool swimming. For cycling, a good way to start is simply getting on the bike to do all your local trips, such as to and from the shops.
There are beginners' exercise programmes in books and on the internet such as Coolrunning.com's Couch to 5k running programme. Sport New Zealand has its programme at sportnz.org.nz
Some people need the motivation of a group or personal trainer. Local YMCAs offer beginner running groups as do gyms and personal trainers.
It's worth Googling "running group" to find one near you.
Already a runner and an occasional cyclist, the big hurdle for me was the swim. It wasn't so much the distance. The issue was that swimming 300m, 500m or 1.5km in the ocean is a different experience to doing lengths in the pool. The surface chop and currents pull you around, swimmers knock into you, and one of my friends even got seasick.
We practised along the North Shore beaches and out to the 200m buoys. Other people join triathlon swim squads such as those at the Parnell and Tepid Baths in Auckland run by Futuredreams.co.nz, or the Fitter.co.nz squads on the North Shore. The Tepid Baths has women-only squads.
A number of cycling and running groups cater for women-only. The Auckland Mountain Bikers group on Meetup.com has monthly "Crank Sistas" training rides at Woodhill and other locations. And the Nike shop in Britomart has women-only run groups on Mondays at 5.30pm. Check out its Facebook page for more information.
There are also plenty of triathlon workshops and training groups which help impart the fundamentals for beginners.
Or you can Google "triathlon tips"for lots of useful information.
Get into gear
Although running is often seen as "free" exercise, there are costs. Decent shoes are an absolute must and it's a good idea to be fitted at a specialist store such as Smiths Sports Shoes or the Shoe Clinic. Sales people there are trained to know what shoes will prevent pronation and supronation (rolling your ankles in or out). The right shoe can stop this problem and prevent painful injuries such as shin splints.
At the height of summer, the swim can be done with just goggles, and a swimsuit. It's almost essential at the beginning and end of the season to have a wetsuit and a swimming wetsuit is better than an el cheapo model because it allows a better range of movement. For really cold weather you might want a neoprene cap and/or booties.
There's no need to shell out hundreds of dollars for wetsuit - at least until you're really hooked on the sport.
The Tri Run shop in Beaumont St rents them out for $29 for a weekend or $50/$75 for a half or full season.
And you definitely don't need a flash bike. At Narrowneck I saw plenty of Warehouse cheapies. One girl even competed on a 20" child's bicycle - at a reasonable speed I should add.
Why women-only events?
Some people question the need for women-only events. The proof is in the pudding however. They are popular.
Cancer Research UK polled the women who competed in one of its events and found that many "strongly preferred" women-only events as it gave them an opportunity to "come together in a non-competitive environment within an atmosphere of 'sisterhood"'.
Many more men than women get involved in cycling, and triathlon, which is a good reason to have women-only events. And there are women who feel more comfortable doing their first event in a female only setting.
For myself the motivation for entering the Bissell event was because it was local and the distances weren't too daunting. I also liked the idea of a portion of my entry fee being donated to The New Zealand Breast Cancer Foundation.
Coming up
Women keen to take part in female-only events have a number of choices. The next big event is next weekend's final of the Bissell Women's Series at Pt Chevalier. Online entries close this Friday at tri.co.nz
Two weekends later on April 28 an innovative event, the Wild Woman Trail Run takes place on Waiheke Island. The event has a nice touch in a mass yoga/Pilates/stretch session designed especially for adventurous women.
There are prizes for the first woman home, the fastest mother and daughter team, and the best dressed competitor. More details can be found at facebook.com
Another popular female-only event, the Y Women Run, event, is on Mother's Day Sunday, May 12, at Cornwall Park. It's the longest-running women's event in New Zealand at 35 years old.
Later in the year on Sunday November 17 the annual Sculpt Women's 6km will see thousands of women doing two laps of an inner-city Auckland course.
Other events to plan for over the next year:
• Taylors Nelson Women's Triathlon: On today, head for it in 2014.
• PhysioMed women's triathlon & duathlon series, Rangiora: Late 2013-early 2014
• Kapiti Women's Triathlon: February
• Lake Hayes Women's Triathlon & Duathlon: March
• Hanmer Springs Forest Camp Women's Triathlon: March.
• Hub Health & Fitness Women's Triathlon, Hawera: March
• New Zealand Women's Cycling Festival: March