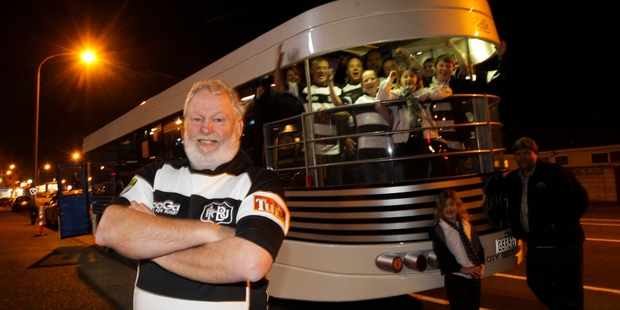 Napier's Art Deco buses are back in business today - transporting spectators to tonight's rugby match is new owner Mark Scofield's first paying job since buying the vehicles from Napier City Council.
The council spent more than $1 million buying, repairing and running the two custom-designed buses as a tourist attraction before bailing out of the venture earlier this year.
Mr Scofield, who previously ran a double-decker bus charter business in Hawke's Bay, picked up the buses for about $50,000 when they were put out to tender.
He is currently working on plans to run a daily Napier city sightseeing tour which he hopes to start in October.
The buses are also available for charter and Mr Scofield has been signed up by Taradale restaurant and bar The Duke of Gloucester to transport patrons to and from every home Magpies game this season, along with next months All Blacks test at McLean Park.
The new business, run in conjunction with his wife Devyn, who is also a bus driver, was "starting to show promise," Mr Scofield said.
"Bookings are coming along quite nicely and we've had a lot of enquiries," he said.
The general manager of the The Duke of Gloucester, David Perreaux, said the venue had chartered Mr Scofield's double-decker bus as transport to the rugby before he sold it in 2011.
A ride on the buses was free for Duke patrons heading to the games and he was pleased to be working with Mr Scofield again.
"It's good the buses stayed in the Bay and that the locals still get to use them," Mr Perreaux said.