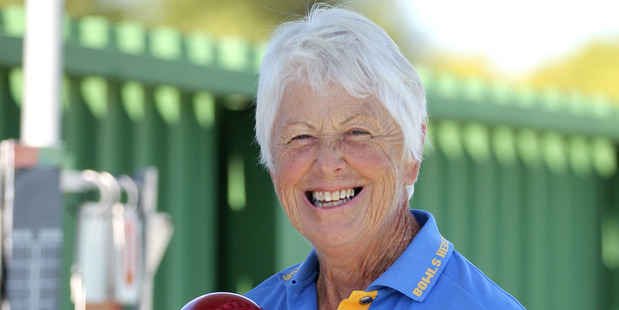 It's just as well Hawke's Bay bowler Colleen Ferrick isn't a gambler.
"If I was a betting person I would have put money on the Carlton Cornwall team myself," Ferrick admitted after she and her Bowls Heretaunga teammates, skip Lynn Stowe and lead Lois Stewart, beat Carlton Cornwall in the women's triples final at the national club finals in Dunedin yesterday.
"They had a star-studded lineup who had won numerous club, centre and national titles together," Ferrick said, referring to the Auckland trio of Karen de Jongh, Judi Wong and Bev Crowe.
" ... We were the kids from the country."
With their victory, the Heretaunga trio were distinguished as the only Hawke's Bay winners at the week-long event and the first Heretaunga team to win a national club title in four years.
They won all five games in Dunedin to complete a 15-game unbeaten run which took in centre and regional qualifying matches for the trip south.
"This is the first national club title for all of us ... we're over the moon," 1994 Commonwealth Games bronze medallist Ferrick said.
"We're all friends and we have all played bowls together for a long time. We trust each other and that meant a lot in the final ... at the same time we're still struggling to believe we are the national champions," Ferrick explained.
"Lois [Stewart] was outstanding in the final ... she demolished their lead and that made mine and Lynn's jobs a lot easier," Ferrick said.
"I could not have asked for more from the team," Stowe chipped in.
Ferrick said the Dunedin venue was an indoor complex similar to their Heretaunga one, which was an advantage. Only the lights were different.
The Heretaunga trio, who also beat teams from Canterbury, Counties-Manukau, Wellington and Southland, are keen to play at this level again next year but will have to go through the qualifying process again.
"Although we're titleholders we still have to attempt to qualify like everyone else next year. It's in Tauranga in April and, everything going to plan, we will be there again," Ferrick added before the trio headed off to celebrate at Mitchells Tavern in Dunedin.
As Bowls Hawke's Bay's website and Facebook co-ordinator when she's not playing or umpiring, Ferrick, will have plenty to write about when she returns home tomorrow.
Earlier in the week, Ferrick and her husband Bruce, representing her other club, Taradale, finished third in the mixed pairs.
"Not bad for a couple our age," Ferrick said referring to the fact the pair, who are both in their 70s, were the oldest in that segment of the nationals.
Bowls Napier's Paul Sorensen finished fourth in the men's singles segment.
An elated Bowls Heretaunga president Jim Bentley said his club will make a decent fuss of their latest national champions shortly after their return home.
South Otago's Robert Wilson won the men's singles title and Canterbury 19-year-old Tayla Bruce of the Burnside club the women's singles title.
Debbie White and Bev Corbett of the Hinuera club in Waikato won the women's pairs title with an unbeaten run and Wanganui's Carey and Warrick Pinker the men's pairs title.