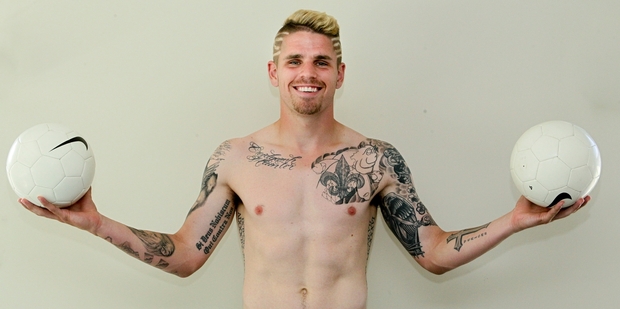 PEEPING THROUGH the sleeves and collar of Sean Morris' polo shirt is a tapestry of body tattoos, suggesting some sort of investment in faith.
It's not that the Kinetic Electrical Hawke's Bay United soccer player is trying to disguise his eccentricity in any way because his slick hairdo gives it away.
"I've this religious thing going on," says the 25-year-old midfielder from Seattle, turning up his sleeve to reveal a guardian angel on his right bicep before turning his left arm to display a cross on the inner side.
"It's good to have faith in something bigger than yourself because that gives you something to aspire to in life," says the Roman Catholic who has no qualms about peeling his shirt off for photographs.
The foundation of his pious existence revolves around a plan - "... all you have to do is find that plan".
This week he visited a friend, Penelope Smith, the sister-in-law of Bay United fitness man and fellow American Brendon Campbell, to jazz up his hair which already has a bleach-wave top streaking around his head.
You see, Morris doesn't want to blend into the facade of anything he's involved with.
He adheres to the adage of "Be phenomenal or be forgotten".
In many ways that's what caught the eye of Bay United coach Chris Greatholder when he saw Morris playing for Western Suburbs against Bluewater Napier City Rovers during the Central League competition in winter.
In Bay United's first ASB Premiership game against Southern United (Otago) at Park Island, Napier, last Saturday the centre-mid certainly stood out.
In today's 5pm kick off against WaiBop at John Kerkhof Park, in Cambridge, the former Seattle Sounders reserves player hopes to continue his in-your-face type of game for the Bay franchise team.
"We want to be the team people will hate playing against.
"We want to win the 50-50 ball and not only beat them up but play them off the park," he says, adding captain Bill Robertson is the catalyst for that aggressiveness from the centreback position.
He agrees Waitakere United and Auckland City are the yardstick in the national summer league but paying them respect in the cauldron of contention isn't on the agenda because "we're coming for them".
"We don't see them as something we're just chasing," he says, revealing Bay United consider themselves level with the elite pair.
"We are ready not just hoping to win or scrape something out but we're ready to go after them, confident to beat them and be better than them."
Understandably the preoccupation is with WaiBOP who they played preseason.
"They won't be a pushover but we have the tools to beat anybody although we'll have to be on our game," he says of today's hosts who lost 3-1 to Auckland City last Saturday.
The visitors' sense of quality today comes with the belief that they are better than what the hosts will bring to the park.
His father, Joseph Morris, an engineer in Seattle, has been his biggest influence in soccer.
"It's a family thing. I'm the youngest of three kids and my dad was big into it," he says of his father who played up to high school level but coaches and watches the beautiful game with passion.
"As an American kid you always play the other sports [baseball, basketball, grid iron] but none of them took to me the way this sport did."
With a solid knowledge base, the senior Morris got older children, Michael, now 29, and Elizabeth, 27, honing their skills in a sport Sean Morris feels allows a freedom of expression.
"Some people think it's dull but I think there's an anticipation of change where anything can happen.
"You know it happens so fast that it can be cruel, it can beautiful, the best thing or the worse thing in your life."
Brother Michael Morris is the Sounders youth assistant director but neither of them are still playing the game.
"That's what our family's about. That's what we always did but we also had the choice not to do it."
Sibling rivalry, especially with ex-professional Michael, helped shape his constitution.
Having started at the age of 3, Sean never wanted to stop although he's had to avoid his share of potholes on the meandering road to success.
For starters, he simply wanted to play but the reality was "you can't have your sport and not do your major [degree]".
"It was tough to kind of know what you want to do," says Morris who chose to study his father's career in the "period of transition".
"Yes, I picked a tough one [engineering]," he says with a laugh, revealing he left university when Sounders drafted him two years into his degree.
"Dad's a tremendously intelligent human but he's actually frightening sometimes. He's always been there for us all the time."
Putting his family first, Morris' father was always there for the big moments to put his children on the right path when crossroads beckoned.
"The way he led his life is more of a great example than the one thing he may have said."
The senior Morris impressed on his offspring the significance of toiling harder than everyone else to be successful.
His mother, Eileen Morris, was also a pillar of strength and support, driving the children to sporting venues when not teaching at their school.
"She did everything at home too and was there for us when dad couldn't be so they worked well with each other and she's probably the happiest person you'll ever encounter."
Morris learned to deal with the emotions of rejection quite early in his life.
When he was 14 he found himself warming the benches quite frequently and was on the verge of giving it all up.
He is indebted to coach Brian Schmetzer, who is Sounders assistant coach now, for talking him out of it.
"I'll make something out of you," said Schmetzer, whose son Colin played alongside Morris before their friendship flourished into a life-long one.
Morris has no intentions of placing limitations on how far he wants to take his career.
"I wanted to take it step-by-step before I got out of the MLS [Major League Soccer]."
In 2011, MLS campaigners Seattle Sounders signed him up but loaned him to Portland Timbers team to gain some professional experience.
It helped that Morris trained off- season with the MLS squad but last November they cut him loose after a stint with the Sounders under-23 side.
The playmaker's size often crept up but the Sounders gave no reasons and Morris was happy to accept it as a business decision.
"It was tough. They did it to me twice, saying they could find someone better."
In February he jetted to Wellington where he worked for the Ole Academy in Porirua and trained before joining Western Suburbs.
"I was looking at options and doing everything to make a name for myself because I want to play at the highest level."
Having got into the premiership, Morris believes a stint in A-League soccer is the next step up.
"That's a very big ambition of mine but I think it's realistic," he says, believing he has to prove he belongs in the premiership first.
From there, it'll be an MLS stint or stay in the A-League if it the door remains closed.
In some ways coming to New Zealand cities is a step back for Morris but he enjoys the close-knit, family-like environment with Bay United.
In some ways it's like Seattle, which he says isn't a big city in the United States.
"Seattle is like a less windy Wellington. You get rain 250 to 280 days a year so you kind of accept it.
"Palm trees and sun are a big plus for me [in Hawke's Bay] so I'm very happy to be around here."